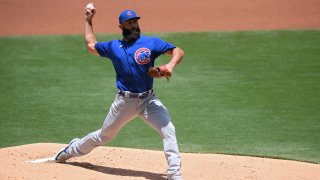 Observations: Cubs beat Darvish to win Padres series originally appeared on NBC Sports Chicago
The Cubs beat the Padres 3-1 on Wednesday, improving to 35-27 this season. 
Here are 10 observations from the series finale in San Diego.
1. New team, same dominant Yu Darvish. The Cubs got their first look at their former ace since trading him to San Diego over the winter, and the right-hander began the day with three perfect innings against his former club.
2. Darvish's final line bears resemblance to his last outing against the Cubs, when he tossed 6 1/3 innings of one-run ball with seven strikeouts in Game 3 of the 2017 NLCS. Wednesday, he tossed seven innings of two-run ball, striking out eight.
3. In a matchup of Chicago aces, Jake Arrieta went toe-to-toe with Darvish. The Cubs right-hander allowed just a run on four hits in his five innings.
4. Wednesday was one of Arrieta's best starts in at least a month. In his previous six outings, he turned in an 8.28 ERA, including last Friday's outing when he pitched with a stomach bug. One earned run allowed Wednesday is tied for his season best. Six strikeouts are his third most through 12 starts.
5. Joc Pederson has hit plenty of home runs against the Padres after playing for the Dodgers from 2014-20. His solo home run got the Cubs on the board in the fourth, off Darvish — his teammate in 2017 with Los Angeles.
6. Patrick Wisdom is on a roll offensively, but — as David Ross and Anthony Rizzo highlighted Tuesday — he's also playing great defense. With the Cubs in a shift in the third, he threw out Jake Cronenworth with a jump throw from the shortstop hole on a groundball.
7. Wisdom didn't go deep, but he set up the Cubs' go-ahead run with a single in the seventh to move Ian Happ to third base. It was his first non-extra-base hit since June 2. Happ scored on a Rizzo double play grounder.
8. Happ is no stranger to second base, with 59 career appearances before Wednesday. He looked like a natural there in his first infield start since 2019. Happ made a nice sliding stop on another Cronenworth grounder in the sixth before throwing him out.
9. Javy Báez was available to pinch hit, Ross said pregame, but didn't play for a third straight game due to a jammed thumb.
10. The Cubs already clinched their season-series over San Diego, but Wednesday makes them 5-1 vs. the Padres, a preseason pennant contender, this season.
On deck: The Cubs have Thursday off before welcoming the Cardinals to Wrigley Field on Friday. First pitch is 1:20 p.m. Probable starters for both sides are to be determined.
Copyright RSN