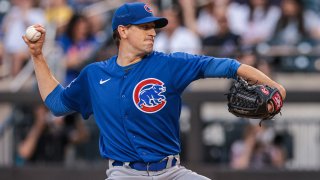 Observations: Hendricks plays stopper, Cubs avoid sweep originally appeared on NBC Sports Chicago
The Cubs beat the Mets 2-0 Thursday night, improving to 39-30 this season.
Here are 10 observations from the game.
1. Add another home run bat to Javy Báez' collection. Báez got the Cubs on the board in the first with a two-run blast to the mechanical apple beyond the center field fence.
2. It took all of one pitch for Kris Bryant to make an impact in his return to the lineup. Bryant lined a single off Marcus Stroman into left-center field in the first, scoring on Báez' home run.
3. Kyle Hendricks worked around a leadoff double to keep the Mets off the board in the first inning. He entered Thursday's outing with an 11.77 ERA in the first this season, far and away his worst for any inning.
4. After a 21-pitch fourth inning raised his pitch count to 76, Hendricks needed a quick fifth to give the Cubs at least another frame. He responded by retiring the Mets in order in the fifth on eight pitches, doing the same in the sixth.
5. Hendricks has been money after finishing April with a 7.54 ERA in five starts. In nine outings since, he's delivered a 2.79 ERA, tossing eight quality starts. He allowed only two hits in six innings Thursday, striking out seven.
6. The Cubs' offense has been home run-heavy of late, especially this week against the Mets' stout pitching staff. All nine of their runs in the four-game series came via six long balls.
7. Anthony Rizzo and Joc Pederson just missed adding to that home run total Thursday. Rizzo (400 feet) and Pederson (413 feet) each flew out to deep center field.
8. Andrew Chafin celebrated his birthday with a 1-2-3 seventh, extending his scoreless streak to 15 appearances. Dating back to May 8, the lefty hasn't allowed a run in 14 1/3 innings, giving up just seven hits.
9. Báez earned some bragging rights over good friend Francisco Lindor in the ninth. Báez threw out Lindor on a groundball to the shortstop hole, ranging far to his right to reach the ball.
10. Despite going 1-3 in New York, the Cubs, who entered the week tied for first in the NL Central with the Brewers, may actually gain ground in the standings. 
Milwaukee, who also lost Monday-Wednesday, trailed the Rockies big when the Cubs wrapped up their win Thursday.
On deck: The Cubs open a three-game series with the Marlins in a rare Friday night game at Wrigley Field. First pitch is 7:05 p.m. Zach Davies (4-3, 4.01 ERA) is the Cubs' probable starter. Miami's is TBD.
Copyright RSN