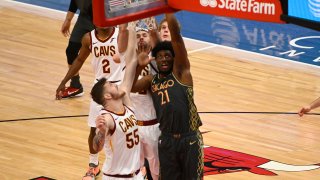 Observations: Bulls snap five-game skid with win over Cavs originally appeared on NBC Sports Chicago
The Bulls (23-33) snapped a five-game losing streak with a 106-96 win over the Cleveland Cavaliers (20-36) at the United Center Saturday evening.
Here are 13 observations:
1. Tomáš Satoranský was available after missing Friday's game against the Grizzlies with a non-COVID-19 illness. But Coby White stuck in the starting lineup at point guard in his place, along with Garrett Temple (in for the absent Zach LaVine) and Daniel Theis (who Billy Donovan slid in Thad Young's place for the second straight game).
White didn't shoot the ball well one night after scoring 27, going just 2-for-10, and committed four turnovers, but also had nine assists and drew praise from Donovan postgame.
2. The Bulls' bench got off to a fast start, outscoring the Cavaliers' reserves 13-3 in the first quarter and 24-5 in the first half. Lauri Markkanen jumped out to six quick points, and Denzel Valentine hit two first-half 3s en route to nine.
That advantage widened in the second half behind continued contributions from Markkanen and Valentine, plus 12 combined from Satoranský and Thad Young on the night. Their bench-points advantage ended 45-15.
3. From a process standpoint, the early offense was sound, with the exception of the occasional fastbreak miscue. The Bulls committed just three turnovers in the first half and had their share of good looks, but 6-for-22 shooting from 3-point range (13-for-22 inside the arc) dragged them down.
4. That long-range shooting positively regressed in the third quarter (6-for-10) and the Bulls opened up a lead of as many as 16 points that settled at 80-70 entering the fourth. They ended the night 16-for-40 (40 percent) from behind the arc and 50 percent overall, with just 10 turnovers.
5. Markkanen led all scorers with seven in the third and finished the night with 13 points on 6-for-12 shooting (3-for-6 from 3). That's his first time in double-figures since the start of the losing streak -- he poured in 18 against the Raptors on April 8 -- that the Bulls snapped in this one.
6. The Cavaliers started the fourth quarter on a 7-0 run to trim the host's lead to 80-77. Buckets from Valentine and Daniel Theis (two fourth-quarter 3s) staved off that spurt for a time, but Cleveland drew back within three multiple times in the final five minutes.
7. The Bulls sealed the game with an 8-0 run out of a timeout with 3:22 remaining, spearheaded by 3-pointers by Markkanen and Nikola Vučević, then a putback dunk by Vučević. Markkanen closed the contest alongside White, Temple, Patrick Williams and Vučević (with Theis subbing in for one defensive possession). That run extended to 10-0 after the Cavaliers committed a five-second violation out of a timeout with 76 seconds to play.
8. Patrick Williams also broke a five-game streak of scoring in single-digits, tallying 12 points and three assists while shooting a sterling 5-for-6 from the floor. The Bulls are now 16-12 in games Williams scores 10 or more points, 6-21 when he doesn't.
9. Nikola Vučević is steady as they come. He made four of his first five shots to buoy the Bulls early, and through three quarters led all scorers with 18 points (plus five rebounds and assists apiece). No double-double tonight, but he scored 20-plus for the 10th time in 13 games as a Bull, finishing with a game-high 25 on 10-for-17 shooting (3-for-5 from deep), including some big scores late.
10. The Cavaliers' backcourt, meanwhile, killed the Bulls. Collin Sexton and Darius Garland notched 22 apiece (with Garland adding 12 assists) to keep the Cavaliers afloat. The Bulls' struggles containing dartier guards continue.
11. All five Cavs starters finished in double-figures, with Jarrett Allen and Kevin Love each pulling down 11 boards.
12. Artūras Karnišovas and Marc Eversley are in frequent attendance of Bulls home games -- and for the most part are non-emotive observers. But Karnišovas looked every bit an earnest fan watching this one from the owner's box in the first half, clapping along at made field goals and waving arms in exasperation at missed defensive coverages (or missed calls).
13. That goes down as a "clutch" win for the Bulls, who are now 11-19 in games that fall within a five-point margin with five minutes or less to play.
Standings update: That was a sneaky big win for the Bulls, who jump back into 10th place in the East. They lead the Raptors by a half-game, and the Wizards by way of a tiebreaker for the last spot in the play-in. The Cavaliers fall to three games back of the Bulls.
Next up: Home for the Boston Celtics on Monday.
Copyright RSN