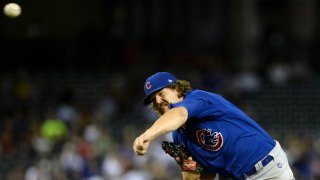 Cubs deal fan-favorite Chafin in 2-for-1 trade originally appeared on NBC Sports Chicago
The first of several trades the Cubs are expected to make this week was close to completion Monday night, with the Cubs agreeing to send reliever Andrew Chafin to the Oakland A's in a two-for-one deal, pending a review of medical records, a source said.
One of the prospects reportedly going to the Cubs is Triple-A outfielder Greg Diechmann, 26, a former second-round draft hitting .300 with an .881 OPS in 59 games for Las Vegas this season.
Chafin, who was acquired last summer in a trade from Arizona and re-signed before this season, quickly became a fan favorite with his eclectic tastes, strong mustache and down-to-earth demeanor.
Also this: He has been the Cubs' most reliable setup man this season, producing a 2.06 ERA and 0.84 WHIP.
He had the longest active scoreless streak in the majors (24 1/3 innings) snapped by his former Diamondbacks team Saturday in his most recent start.
The trade comes 11 days after the Cubs traded Joc Pederson to Atlanta the day before the second-half opener.
Closer Craig Kimbrel also is getting heavy attention from deadline buyers this week.
And Kris Bryant, Zach Davies and Ryan Tepera are among at least a half-dozen Cubs who could be traded by Friday's 3 p.m. deadline.
Click here to subscribe to the Cubs Talk Podcast for free.
Copyright RSN