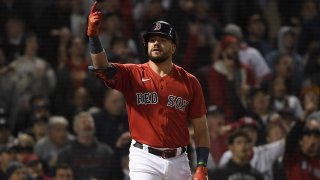 Déjà Vu: Schwarber hits HR of Cole in Wild Card Game originally appeared on NBC Sports Chicago
It may not have landed in a river, but it sure felt familiar.
It was six years ago when Kyle Schwarber cranked a two-run home run off Gerrit Cole in the National League Wild Card Game, the drive leaving PNC Park for a splashdown in the neighboring the Allegheny River.
Tuesday, in the 2021 AL Wild Card Game, Schwarber got Cole again. The former Cubs slugger crushed a solo shot to the right field bleachers at Fenway Park.
Schwarber's home run off Cole in 2015 NL Wild Card Game gave the Cubs a 3-0 lead in the third inning.
His home run Tuesday also came in the third — and gave the Red Sox a 3-0 lead.
Schwarber has a history of success in October. He entered Tuesday with a career .288/.405/.576 slash line and six home runs in 24 postseason games, obviously all with the Cubs.
He hit five of those home runs in 2015, and in 2016 returned from a serious knee injury that kept him out most of the regular season to hit .412/.500/.471 in five World Series games. 
Schwarber and the Red Sox are squaring off with the Yankees for a berth in the ALDS. Schwarber hit leadoff Tuesday — as did former Cubs first baseman Anthony Rizzo for New York, which has several former Cubs on its roster.
Copyright RSN