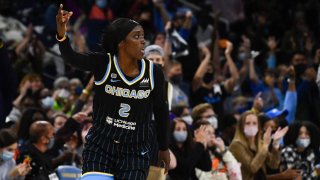 Copper, Sky dominate Mercury in Game 3 of WNBA Finals originally appeared on NBC Sports Chicago
Guard Kahleah Copper's strong offensive performance helped the Chicago Sky get one game closer to winning the team's first WNBA title.
After Wednesday's overtime loss to the Phoenix Mercury, Chicago Sky point guard Courtney Vandersloot said she wanted to put on a show for the Sky's first home game in the WNBA Finals. Well, mission accomplished.
In what Vandersloot called a "pivotal game", the Sky defeated the Mercury 86-50 in front of a sold-out crowd at Wintrust Arena. The 36-point margin is the new biggest margin of victory in WNBA Finals history.
The Sky dominated the first half both offensively and defensively, leading Phoenix 46-24. Copper found her rhythm early in the first half and led the offense with 20 points (game high). Candace Parker and Vandersloot also delivered early, helping the Sky outscore Phoenix 24-2 in the paint by the end of the second quarter.
Defeating the Mercury puts the Sky up 2-1 in the finals. The team has a chance to win its first championship in front of a home crowd for Game 4.
Prior to the Game 3 match-up, Vandersloot was named to the All-WNBA second team for the third time in her career. In Game 2, she led the offense with 20 points, 14 assists and had a running lay-up to tie the game with 4.4 seconds remaining.
In Friday night's game, Vandersloot also set an all-time single postseason record with 87 assists for 2021.
This is the second time in franchise history that the Sky have made it to the WNBA Finals. The Sky played the Mercury in 2014 for the Sky's first appearance in the WNBA Finals, but lost to the Mercury in a three-game sweep for the title.
"I was telling my team I'm 0-for-2 in Game 4 closeout at home," Parker said. "I don't want that to continue. We know that they're a fantastic team and they're gonna come in and they're gonna be ready. They're gonna get rest and they're gonna come back stronger. We got to do our part.
"We're gonna enjoy it today and then back to business tomorrow."
The Sky look to get revenge this time on the Mercury and bring their first championship home Sunday at Wintrust Arena in Chicago.
Copyright RSN