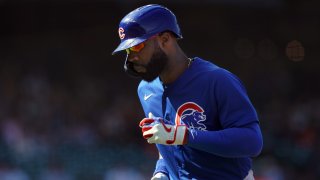 Heyward grows Chicago legacy with baseball academy originally appeared on NBC Sports Chicago
Jason Heyward looked down, and Andy McDermott feared the Cubs outfielder might log off the Zoom call.
It was winter of this year, before Heyward and the Cubs headed to Arizona for spring training. He was conferencing with Donnita Travis, founder and executive director of By The Hand Club For Kids, and McDermott, president of Intentional Sports. They had just pitched the "Jason Heyward Baseball Academy" to the 2016 World Series champion.
Maybe the proposal was too bold?
"I just got goosebumps," Heyward said.
On Wednesday, By the Hand For Kids, Intentional Sports, Grace and Peace Revive Center, the Chicago Fire Foundation and the Jason Heyward Baseball Academy broke ground on a sports, education and wellness facility in the North Austin neighborhood.  
Mock-ups of the estimated $31 million, 10-acre campus include indoor and outdoor soccer and baseball facilities nestled among buildings that will support other programming. The center, designed to help address the opportunity gap for youth on Chicago's West Side, is set to host more than 100 free community hours per week.
For Heyward, his goosebumps on that initial Zoom call with Travis and McDermott were about more than the academy bearing his name.
"I got chills hearing their dream and vision," he told NBC Sports Chicago, "and to know they wanted me to be a part of it."
For all the humility packed into Heyward's rection, he was a deserving pick. Early in his Cubs tenure, Heyward was best known for his hand in the Cubs' curse-breaking championship. But his more lasting contributions have come off the field.
Heyward, the Cubs' 2020 nominee for the Roberto Clemente Award, already had a relationship with By The Hand Club.
Last summer, the organization hosted local police officers and athletes for a day of discussion and listening, asking them to join the program's youth in "healing circles." Heyward was one of the athletes who participated.
"Right now, we're the present; they're the future," Heyward said. "And to me, they have a very bright future because they're ready to take ownership in what their home looks like."
Out of the listening circles came the idea for Austin Harvest, a youth-led open-air fresh market. Heyward helped fund the venture.
"Seeing the impact that had," Heyward said, "to me this (new facility) is a no-brainer, to jump on board with something like this and know that this is going to have impact for families and generations and so on."
Heyward is cognizant that he grew up in Georgia, not Chicago. He made it clear that his role in those healing circles was to listen to the young people who are growing up in this city.  
Heyward also considers Chicago home.
"I'm proud to say, I officially got my Illinois license in the mail last week," Heyward announced during the groundbreaking ceremony, to a swell of cheers. "Just so you all know I'm not playing. I'm here."
The Jason Heyward Baseball Academy is part of the veteran outfielder's ongoing commitment to the Austin community. In addition to providing financial resources, Heyward will serve as the academy director, offering input directly or through his personal coaching staff.
Vedrana Heyward, in tandem with her husband's academy, is set to launch "Girls on the Diamond." The holistic programming is designed to help young women pursue their passions, whether those are in baseball or not.
"We always get asked, how can we change the way baseball looks and how can we change the influence in the African American community," Jason Heyward said. "Well, this is literally that for me."
At one point Wednesday morning, Heyward paused to gaze over the sparse room lined by renderings. People trickled in from outside, where the rest of the lot remained untapped. Heyward exhaled his excitement.
"I can't imagine what it's going to look like when it gets done," he said. "I can't wait to come here and work out, or bring my (future) kids here one day, bring other people by here one day – other athletes and powerful people in the world of sports but also just in growth and life."
Click here to follow the Cubs Talk Podcast.
Copyright RSN