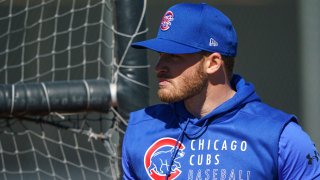 How new COVID-19 vaccine affects Cubs, MLB originally appeared on NBC Sports Chicago
Ian Happ is thankful for golf.
"That's just a nice getaway," the centerfielder said of re-entering a bubble-like atmosphere in spring training.
Just how strict Major League Baseball's health and safety protocols remain throughout the season will depend on the state of the pandemic and the country's vaccine rollout. MLB's 2021 operations manual leaves room for adjustment.
This week, President Joe Biden announced that the U.S. was on track to have enough vaccine doses for every adult in the country by the end of May. His vow came after the U.S. Food and Drug Administration issued emergency use authorization for a third COVID-19 vaccine, from Johnson & Johnson.
Happ, the team MLBPA representative, said baseball is following vaccine guidelines from the Centers for Disease Control and Prevention and individual states.
"I know that we're not a top priority," Happ said. "I know we're not, for the most part, on that list just because of the age bracket and the health of most of our guys. I know that the latest projections are April, May, as far as general public vaccinations. So, I would think that we fit pretty squarely into that group toward the end of the line."
If that timeline holds, players would be vaccinated in the first couple months of the regular season.
On Friday, MLB and the players association announced the latest intake testing results. So far this spring, they have recorded 15 positive intake tests, from 12 players and three staff members. With 5,317 tests conducted, that represents a 0.3 percent positive rate.
After clearing intake testing, players and staff members graduate to regular monitoring testing. Those tests have produced 10 new positives (7 players, 3 staff members). Five of those, all players, were from the past week.
"They're really good," Happ said of the numbers. "They're great. Everybody's being super responsible across the league in intake and then in testing since then. So, that's great to hear.
"And we don't want to stop that momentum. We don't want to let up too early and let our guard down and have something happen that would hurt any team."
Happ said he hopes that as the season progresses, some sense of normalcy will safely return.
For now, he'll stick to golf.
Gordon Wittenmyer contributed to the reporting of this story.
Copyright RSN