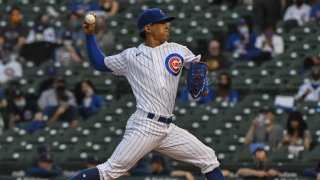 How Alzolay recovered from shaky start to 2021 debut originally appeared on NBC Sports Chicago
Immediately after watching a left-handed batter launch his curve ball over the fence, Cubs pitcher Adbert Alzolay threw another curve to another lefty. This time, it dropped in for a called strike.
"Just having my mind right at the moment, I think that was a big key for me just to keep competing out there," Alzolay said after the Cubs' 4-0 loss to the Brewers on Tuesday.
Alzolay recovered from a shaky first inning at Wrigley Field to allow just one more run in his first start as a member of the Cubs rotation. He threw five innings, tying a career high, and gave up four runs.
"Sometimes finding your rhythm is important," Cubs manager David Ross said. "… Looked like he was getting his breaking stuff over, the fastball command was better, his slider look nice and sharp after that first inning."
Alzolay, 26, has made spot starts before for the Cubs, but for the first time this year he broke camp as the Cubs' fifth starter.
The rookie started off his night Tuesday by getting leadoff hitter Kolten Wong to groundout back to the mound. Then the trouble started.
Alzolay walked the next batter he faced and gave up a single to Christian Yelich. Brewers cleanup hitter Travis Shaw drove both of them home, reaching out to send an outside breaking ball into the leftfield bleachers.
"I was able to come back after that homer," Alzolay said. "I take that from the outing, that I was able to keep competing and finish five innings for the team."
Alzolay struck out Jackie Bradley Jr. and Avisail Garcia back-to-back to end the inning. Both punched out on Alzolay's slider. Bradley whiffed on strike three, and Garcia went down looking.
In fact, three of the four strikeouts Alzolay logged Tuesday came on sliders.
"Just trust the grip and throw the pitch," Alzolay said of his adjustment.
Back in spring training, before Alzolay's made a strong final impression against the Dodgers, he cleaned up his mechanics in a "B" game. One of his focusses had been the shape of his slider against left-handed batters.
On Tuesday, the Brewers lineup gave Alzolay plenty of opportunities to put that work into practice.
"It was the first time I've seen five lefties in a row in a long time," Alzolay said with a smile. "… I feel pretty good that I was able to face a lot of lefties in a row, and I feel that I just kept making pitches and kept making judgements, through the whole game."
Alzolay gave up just two more hits the rest of the game, both to Omar Navárez. The Brewers catcher hit a broken-bat single in the second inning and a solo homer in the fourth.
Copyright RSN