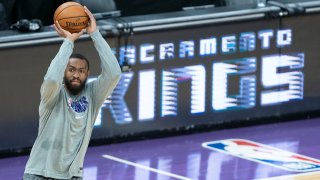 Celtics' Jabari Parker healthy, happy for latest chance originally appeared on NBC Sports Chicago
Jabari Parker has endured plenty in the seven years since the Bucks drafted him No. 2 overall.
But the Chicago native and former Bull is still only 26 and thankful for his latest opportunity, which features him playing for a Celtics squad that faces his hometown team Monday night in Boston.
"Just blessed to have good health," Parker said on a Monday morning Zoom media availability session.
The Celtics represent the sixth team for Parker, who has rehabilitated from two torn left ACL injuries and also experienced a bout with COVID-19 while playing for the Kings in the NBA's so-called "bubble" finish to the 2019-20 season on the Disney World campus in Florida.
Parker scored 11 points on 5-for-6 shooting in his Celtics' debut, a Saturday victory over the Warriors. That output represented three more points than he logged in just 27 minutes and three appearances all season for the Kings, who waived Parker on March 25. Parker said he spent the downtime until the Celtics signed him on April 16 working out in Chicago.
"Really what has kept me going is my faith in God and just not giving up," Parker said. "I remember my Dad when I was 6 years old pulled me to the side, he saw me giving up on a play. And I was walking out. And he told me after that, 'Never give up.' That pretty much stuck with me. I never give up and I always give myself a shot. And the people in my family and my friends have been able to keep me uplifted."
Sonny Parker is a former NBA player who has worked extensively with Chicago youth and watched as his son first starred at Simeon High School and then one season at Duke. Jabari Parker said he has a pre-existing relationship with Celtics' All-Star Jayson Tatum from their shared Duke connection.
"I met him after my third season and I came back to school. I had a chance to work out with him," Parker said of Tatum. "Most importantly, just been a fan of the Celtics. They do things the right way as far as teamwork and preparation. Hopefully I can be integrated and rubbing off on those guys as far as their work ethic and their habits."
The Bulls, who acquired starting center Daniel Theis on last month's trade deadline, also will be facing former backup center Luke Kornet on Monday. Kornet, sent to the Celtics in the Bulls' three-team trade that also involved the Wizards, has averaged 4.5 points in eight appearances.
Copyright RSN