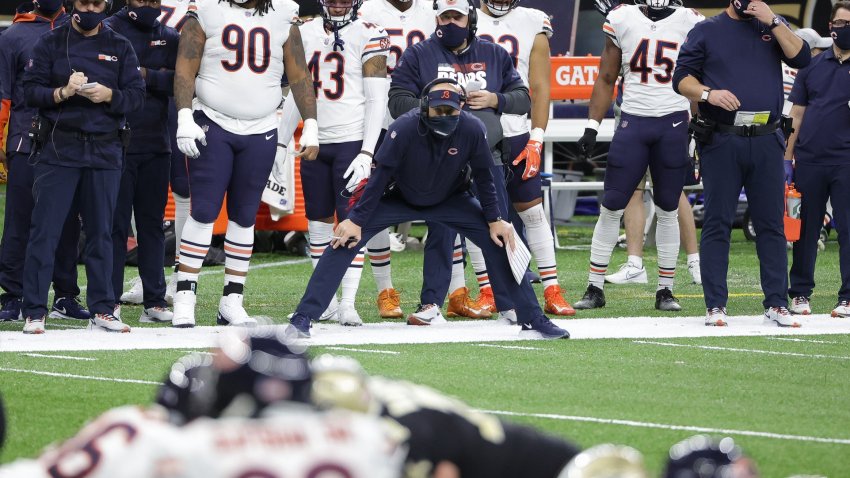 The Matt Nagy era may have a future, but it's bleak originally appeared on NBC Sports Chicago
As it turns out, it's kind of difficult to write about what comes next for the Bears when it's clear that they don't even know themselves. Sunday's season-ending clunker probably would have stung more had it not been entirely predictable: whether it was the offensive struggles, the defensive regression, or a wide receiver punching C.J. Gardner-Johnson – the Bears had, quite literally, seen it all before. 
"It's always difficult coming off a loss at any point but for us, being at the end of the season, there are a lot of emotions in that locker room and I just appreciate these guys," Matt Nagy said after the 21-9 loss. "It's been a long year and I love every one of these guys, these players, these coaches, and we've been through a lot. It's not where we want to be." 
It's hard to say that right now, as Matt Nagy's second straight 8-8 season ends, the Bears really know where they want to be. Wild Card Weekend is all well and good, but as he correctly pointed out, "making the playoffs is great, but what we did today has to be a lot better." The only thing worse than the ordinary football team he and Ryan Pace have built is how much time – and how many careers – they're wasting by driving it in circles. 
"I think what we need to do as a staff is we've gotta say, 'Why is that? Where is it?," Nagy added. "'And how do we get better?' Every year is different, and you look at this right now, and I think identity-wise as an offense, you guys could see we felt like we created an identity. But how do we learn from that?" 
A start would be at quarterback, where Mitch Trubisky responded to the rumors that he was playing for his job by completing 19 passes for less than 200 yards. It wasn't his fault that Javon Wims dropped the last deep ball he's ever going to get in a Bears uniform, but Trubisky's time spent reemerged in the sun seems to have ended as quickly as it came on. If it was his last game as the franchise quarterback, at least he went on familiar terms: marching the team 99 yards down field for a pointless score at the end of a blowout loss. 
"I think it's emotional," Trubisky said. "It was in the locker room. But we've been through so much as a team this year and just a special moment to share with the guys – to show your appreciation for everything they've done over the course of this year. Really, a lot of these guys I've been with for four years. That's really special to me." 
For what it's worth, Trubisky also said he could "definitely see [himself] back here next year." The QB admitted that a lot of things are out of his control (which was, frankly, the understatement of the evening), but that the Bears have 'unfinished business.' Whether that business involves mortgaging the team's future for another crack at nine wins and a Wild Card berth remains to be seen. 
"So there are some good things that we did toward the end of the season that helped put us in position to be able to play here tonight but that's now how we want to finish," Trubisky added. "We finished the season 8-8 and slid into the playoffs. We did that last year, so there are still things that need to be changed there are still a lot of areas we need to grow in to build that championship culture that we want to get to. I think we have some pieces but there is a lot more that we need to do better and we need to figure that out."
A problem – *the* problem, really – is that those pieces aren't getting any younger, cheaper, or better. Akiem Hicks, Danny Trevathan, Robert Quinn, and Khalil Mack will all be north of 30 when training camp starts in July. Jaylon Johnson and Roquan Smith can't stay healthy. Kyle Fuller is handsomely compensated for what he provides and Eddie Jackson's trying to see how quickly he can go from All-Pro to cap casualty. When this unit was elite, the Bears were a 12-win team. When this unit was a Top-10 group, the Bears were an 8-win team. What type of team do you think this Bears team will be when this unit is just bad? 
"I don't believe a window is closing," Hicks said. "I don't believe that my opportunity is lost. I believe that I have another moment, another day to be better than I was ... Whatever you think about, whatever you believe in and how you talk about yourself, they tend to all be true. You know what I'm saying? I tend to talk positivity to myself and I tend to believe there's always another opportunity."
The problem is that Hicks is exactly right – in all likelihood, there will be another opportunity for these Bears to right the ship. There will be more games like Sunday's, more seasons like this one. And if you think a 12-point Wild Card loss is bleak, wait until you watch it again next year. 
Copyright RSN