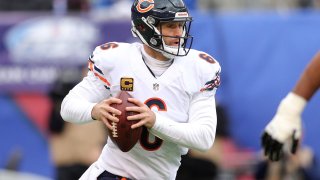 Cutler candid about memory after 'double-digit' concussions originally appeared on NBC Sports Chicago
In a candid interview with GQ published last week, former Bears quarterback Jay Cutler revealed he's begun suffering from some of the symptoms associated with Chronic Traumatic Encephalopathy, better known as CTE. It's a problem that's garnered more and more attention in recent years as more and more former players open up about their struggles with the disease, and more research links it to the repeated blows to the head football players sustain throughout their careers.
"I would say definitely my memory isn't the same as it was 5 years ago," Cutler told GQ. "The amount of concussions I've had are probably in the double digits. It's gonna catch up to me at some point. I'm just trying to delay it as much as possible."
Playing behind porous offensive lines in Chicago didn't help Cutler, as he was sacked a whopping 322 times over his 12 year career. No season was worse for Cutler than 2010, when he was dropped a league-leading 52 times.
As Cutler mentioned, he's trying to delay further development of his symptoms through changes in diet and chemical treatments.
"Trying to cut sugar," Cutler said. "Heavy amounts of fish oil have been tied to health in the brain. I'm doing NAD. I'm doing it through IVs now. NAD is in all the cells in your body, the mitochondria, the energy that pushes each cell to function. As you get older, you lose NAD. So I'm doing NAD therapy, which, at a core level, helps everything in your body. I've noticed that that's definitely helped me. Anything I can do these days, I'm trying to get involved in."
According to WebMD, NAD treatments are used to improve "mental clarity, alertness, concentration, and memory; as well as for treating Alzheimer's disease and dementia. Because of its role in energy production, NADH is also used for improving athletic performance and treating chronic fatigue syndrome." However WebMD also says more research needs to be done to confirm and understand the benefits of NAD treatment.
Cutler isn't the only Bears quarterback to deal with symptoms like these. Jim McMahon has detailed his struggle with depression and early-onset dementia that were caused by the numerous concussions he suffered.
But even knowing the dangers of football, repeated head injuries and the possibility of CTE, Cutler says he wouldn't go back in time to tell a younger version of himself to stay away from the sport. He appreciates "the relationships that I made, the memories that I have, the lifestyle it's accustomed me and my kids [to].
"There may be some people that say, hey, that's crazy. But I'd do it all over again, no question about it."
Copyright RSN