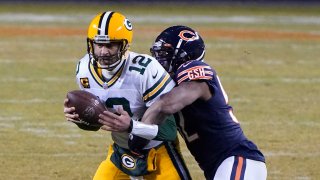 Former Bear Kreutz fires back at Rodgers justifying taunt originally appeared on NBC Sports Chicago
A Green Bay Packers versus Chicago Bears rivalry? Check. Now an Aaron Rodgers versus Olin Kreutz rivalry? Discount double-check.
After scoring a late fourth quarter touchdown on Sunday 24-14 loss to the Packers, Rodgers taunted Bears fans at Soldier Field.
"I've owned you all my f**king life. I own you. I still own you. I still own you," Rodgers said after giving the Packers a 10-point lead.
Former Bears center Olin Kreutz responded to Rodgers' taunt Monday on 670 the Score's Mully and Haugh Show saying that he'd like to punch Rodgers in the face.
Rodgers appeared on Tuesday's episode of the Pat McAfee show and basically laughed off Kreutz' response, whom Rodgers said he had respect for. Rodgers also mentioned that he 'didn't plan' to say that he owned Bears fans.
"Are we getting that soft as a society that we can't have a back and forth now?" Rodgers said. "Somebody can pay for a ticket and say whatever the hell they want, which I think they should be able to, that's fine, but the one time you say something back to them, that gets caught on hot mic... now it's that I've disrespected an entire city and organization and my own organization."
Kreutz returned to 670 the Score on Tuesday and gave Rodgers a piece of his mind after assuming that Rodgers called him "soft".
"We are having a back and forth, Aaron," Kreutz said on The Parkins and Spiegel Show. "That's why I said what I said. You said what you said and you did disrespect and offend a whole city.
"Don't make up this story that you blacked out after some lady flipped you off. Just say, hey look, I am 22-5, I do feel like I own the Chicago Bears. We can respect you more if you just come out and say that."
Rodgers has beaten Chicago 22 times since 2008. Green Bay has won 10 of the last 11 at Soldier Field. Kreutz expressed that Rodgers definitely could have basked in his glory of "owning" the Bears without all the taunting and swearing.
"Instead you go and make a million excuses, and then you go on the Pat McAfee Show and you sound like you're Brandon Staley or the Dalai Lama, whoever you are. It's all about woke culture and the PC crowd, and all this stuff, and that you're above the game."
It's only fitting that Rodgers responds next, but if and when he does, it's understood that Kreutz would still like to punch him in the face.
Copyright RSN