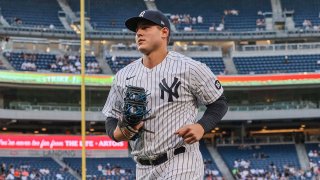 Rizzo reportedly 'eager' to return to Yankees in free agency originally appeared on NBC Sports Chicago
Maybe former Cubs first baseman Anthony Rizzo will be back in blue pinstripes in 2022 after all.
The navy blue kind, that is.
Bob Klapisch of the Newark Star-Ledger tweeted Monday that "according to a family member," Rizzo is "quite eager" to return to the Yankees next season.
Rizzo was in his 10th season with the Cubs when they traded him to New York at the deadline this summer. He helped the Yankees clinch a spot in the AL Wild Card Game, hitting a solo home run in their loss to the Red Sox.
Rizzo, who has family in the New Jersey area, is a free agent for the first time in his career this winter. Reports out of New York suggest the Yankees are interested in a reunion with him.
The 2016 champ batted .249/.340/.428 with eight home runs in 49 games with the Yankees.
Copyright RSN