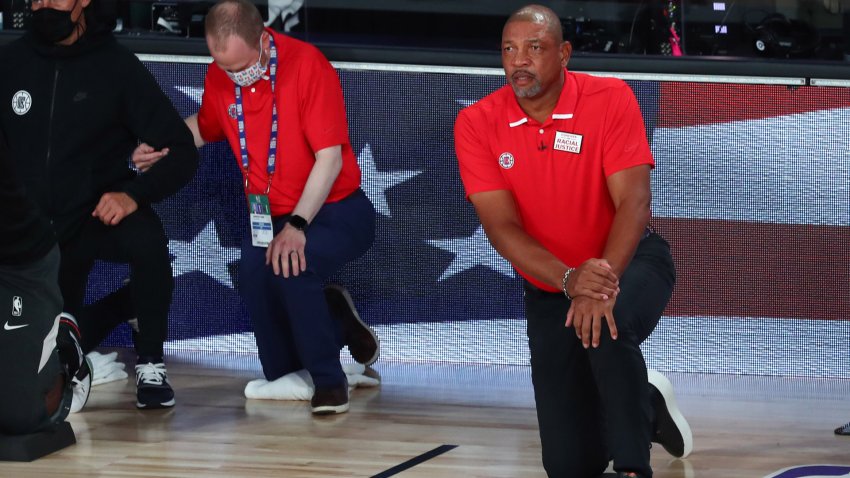 The Los Angeles Clippers seized control of their first-round playoff series against the Dallas Mavericks Tuesday night with a convincing 154-111 victory, pulling ahead 3-2. 
Paul George got humming to the tune of 35 points, Montrezl Harrell bucked his bubble swoon with 19 off the bench and Luka Dončić melted into the background as the Clips eclipsed 60% shooting both from the field and from 3-point range. It might have been a night for celebration.
But the most compelling and essential portion of head coach Doc Rivers' postgame press conference was more solemn. Gut-wrenching, even. Rivers spent just over five minutes of his time at the podium parsing through the range of emotions elicited by police officers shooting Jacob Blake in Kenosha, Wis. Sunday, and the widely-shared video of the shooting that emerged in its wake.
"It's just so sad. You know, what stands out to me is," Rivers said, removing his mask, which read "Vote!," as he spoke, "just watching the Republican (National) Convention, and they're spewing this fear, right. Like, all you hear is Donald Trump and all of them talking about fear. 
"We're the ones getting killed. We're the ones getting shot. We're the ones who are denied to live in certain communities. We've been hung. We've been shot," he continued, his voice cracking with emotion. "And all you do is keep hearing about fear. It's amazing. Why do we keep loving this country, and this country does not love us back."
Click to download the MyTeams App for the latest Bulls news and analysis.
Rivers went on to highlight examples of the contrast he's observed in the ways police treat Black people compared to white people in the United States.
"I should just be a coach. And it's so often reminded of my color. You know, it's just really sad. We gotta do better. But we gotta demand better. You know, it's funny, we protest and they send riot guards, right. They send people in riot outfits," Rivers said. 
Then he added, in reference to armed protesters that cropped up to demonstrate against stay-at-home orders amid the COVID-19 pandemic back in May: "They go to Michigan with guns and they're spitting on cops and nothing happens. The training has to change in the police force. The unions have to be taken down in the police force. My dad was a cop. I believe in good cops. We're not trying to defund the police and take all their money away, we're trying to get them to protect us. Just like they protect everybody else."
Rivers' father, Grady, served for 30 years as a police officer in Maywood, Ill., where he ascended as high as lieutenant, according to a recent feature by NBA.com's Shaun Powell. Doc grew up in Maywood and starred at Proviso East High School before forging a decorated career as a player and coach at the NBA level.
On top of the concrete policy steps listed above, Rivers called for empathy - and justice - in response to Blake's shooting, and in the case of Louisville police officers shooting and killing Breonna Taylor in her home in March.
"If you watch that (Jacob Blake) video, you don't need to be Black to be outraged. You need to be American and outraged. And how dare the Republicans talk about fear? We're the ones that need to be scared. We're the ones having to talk to every Black child. What white father has to give his son a talk about being careful if you get pulled over? It's just ridiculous," Rivers said. "And it keeps going, there's no charges. Breonna Taylor. No charges. Nothing. All we're asking is you live up to the Constitution. That's all we're asking. For everybody. For everyone."
As of this writing, one officer present during Taylor's killing, Brett Hankinson, was fired in June. Two others, Jon Mattingly and Myles Cosgrove, were placed on administrative leave. No charges have been levied against any.
Asked about recent comments by players, including Fred VanVleet and Marcus Smart, about possibly boycotting games in the bubble, Rivers said he's of that mind that "you always play." But if members of the Clippers came to him set on sitting out in protest, he'd support them.
"We can fight for justice, but we still should do our jobs. I really believe that. Because doing our jobs, people are seeing excellence from Americans, Black Americans and white Americans," Rivers said. "So I would still do my job, that's just my opinion. But if my players told me no, it'd be no. I can tell you that."
For video of most of the above comments, see below. Some words, text on a screen don't do full justice.
SUBSCRIBE TO THE BULLS TALK PODCAST FOR FREE.
Doc Rivers delivers powerful speech on Jacob Blake shooting, racism in America originally appeared on NBC Sports Chicago
Copyright RSN