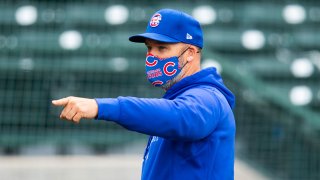 Ross: Cubs' suspensions, fines make 'zero' sense originally appeared on NBC Sports Chicago
A few hours before the Cubs faced the Braves on Friday, Cubs manger David Ross hadn't chosen a spot to watch the game.
Maybe he'd gab pizza with his kids and watch from home.
"It's hard to leave," Ross said before serving his one-game suspension Friday. "I know I've got to get out of the locker room area, but I hadn't decided that yet."
Ross' suspension came along with reliever Ryan Tepera's. Major League Baseball determined Tepera intentionally threw at Brewers pitcher Brandon Woodruff in the Cubs' 3-2 win Tuesday at Milwaukee. Tepera received a fine and three-game suspension but elected to appeal.
"We threw one behind a guy's calf," Ross said on Friday, the tension in his voice rising, "and we've got suspensions and fines everywhere. That makes zero sense to me."
To support his case, Ross laid out the buildup to that moment.
"Since I've been here, we lead the league in getting hit by pitches, and it's not even close to the second one," Ross said. "And we've never intentionally retaliated to my knowledge."
The Cubs did indeed lead MLB in HBP last season with 52, and Cubs catcher Willson Contreras led all players with 14. The Mets came in second with 45.
Overall this year, Cubs pitchers have plunked the Brewers just as many times as Brewers pitchers have hit Cubs batters (six). But already this season, Milwaukee pitchers have hit Contreras in the head, shoulder and hand.
In the first series between the Cubs and Brewers, Contreras voiced his displeasure after being hit in back-to-back games. The benches cleared. Umpires issued warnings, and Contreras said MLB fined him $7,500 after the fact for violating health and safety protocols.  
In Pittsburgh, umpires issued warnings when two Cubs batters were hit in the same game, and Cubs associate pitching, catching and strategy coach Mike Borzello was ejected.
Then on Tuesday, the inning after Woodruff hit Contreras on the hands, Tepera threw behind Woodruff.
"There was no malicious intent," Tepera said. "It was just a message that we'd had enough."
Cubs outfielder Jason Heyward, like Ross, said he was confused by MLB's decision.
"It's not intentional," Heyward said of the Brewers hitting Contreras, "but still, we're not going to sit down to hold your hand and say, 'Hey, can you please stop throwing that close to our guy? That's not a part of the game.
"We understand the scouting report, you're going to pitch him how you're going to pitch him. But if anything, it's just to say, 'Look, just be more mindful. This is someone's life, this is someone's career.'"
Contreras expressed similar concerns after Brewers right-hander Devin Williams hit him in the helmet with a fastball earlier this month.
"They have to take care of the batters," Contreras said of Major League Baseball, "because we're getting hit a lot."
Copyright RSN