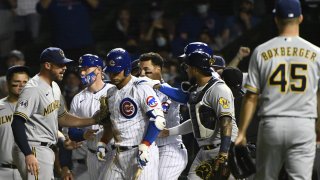 Ross after latest Contreras HBP: Brewers 'got to be better' originally appeared on NBC Sports Chicago
If you don't know how to throw inside, don't.
That was the message from the Cubs on Tuesday night, after catcher Willson Contreras got hit by a pitch up and in for the second straight game.
"It's scary right now," Cubs manager David Ross said postgame. "At some point, you have to be better."
In the ninth inning Tuesday, Contreras took a 94-mph fastball from Brewers reliever Brad Boxberger off the upper left arm. The Cubs catcher took exception, walking towards the mound while expressing his feelings towards Boxberger and Milwaukee's dugout.
Brewers catcher Omar Narvaez stepped between Contreras and the mound. Both clubs' benches and bullpens cleared, although things settled down soon after.
The hit by pitch comes just one day after Contreras took a 93-mph fastball from Brewers reliever Devin Williams off the helmet. He stayed in Monday's game and has since passed concussion testing, clearing him to start Tuesday, but both moments were scary, nonetheless.
"You can't just continue to try to pitch [inside] and hit guys," Ross added. "You've got to be better."
In the Cubs' last 11 games against Milwaukee, dating back to 2020, Contreras has been hit by a pitch six times.
While both incidents didn't appear intentional, you can understand Contreras' frustration, a message echoed by Brewers infielder Travis Shaw.
"Regardless of who threw the pitches, if you get hit in the head and the next day you get hit up in the same region, you're not going to be happy about it," outfielder Ian Happ said.
Said Cubs starter Adbert Alzolay: "I don't know what to think about it. I just know it's not right."
Copyright RSN