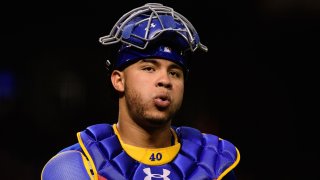 Contreras rips Cubs' effort, sends message Hoyer should hear originally appeared on NBC Sports Chicago
Maybe some of the players are tired, Cubs catcher Willson Contreras said, but it was clear after Saturday's flatline loss to the Cardinals that nobody's as tired as Contreras is of the crap he's seen on the field for much of the last two weeks.
When he let some of the steam slip after experiencing a 6-0 loss he said lacked effort, it should have landed on the ears of Cubs rebuild czar Jed Hoyer like a fire alarm.
If not opened Hoyer's eyes to where his next championship core should start — and what this team's next attempt at building a so-called culture should look like.
"It's really hard, especially when you want to win," said Contreras, who speculated that "everybody was off" Saturday because they were "distracted" by the All-Star break approaching Monday.
If players can't get up enough effort to compete for two days before a break after the way the season went down the crapper the last two weeks, what does that say about the effort we might see through three weeks of selling off this month and more than two months to play after July 30?
"I'm just going to keep doing my job. The way I play is not going to change," Contreras said. "That's on everybody's work ethic and job. I cannot ask everybody to play like [Javy] Báez and I play.
"Everybody's different. I know they might be tired. But I'm here to win. I'm here to compete. That's what I like to have from everybody else."
Contreras, a 2016 champion as a rookie and the National League's starting catcher the last two All-Star games, is one of the core's undisputed leaders.
And if Hoyer plans to blow up what's left of that core, maybe it's time to consider making Contreras one of the last players standing from it.
"There's a lot going on," Contreras said when pushed about whether he could say more as one of those leaders. "There is a lot of things that I would like to say, but I would rather keep it to myself than say it."
Hoyer and his predecessor, Theo Epstein, had plenty to say after this expensive, talented team's underachievement in recent years — criticizing the hitters as a "broke" offense, complaining about lack of urgency, implying a lack of edge while simultaneously providing more creature comforts and ego stroking than the last two World Series champions combined.
Want urgency? Contreras showed a glimpse of what it looks like. This is a stretch like he's never experienced in his career, and even if the writing's on the wall with this team this year, he's clearly not OK with it.
"It's really hard," he said.
Want an edge? Want a winning "culture"?
Contreras is what it looks like. He has been as close to that as any player the front office has put in the clubhouse since John Lackey.
And if Hoyer wants a place to start with a four-man core he keeps saying he can't afford to bring back en masse, then it seems obvious where that starting point is.
A few years ago, Nationals general manager Mike Rizzo talked about signing Jayson Werth ahead of the team's competitive turnaround because he had that edge and championship experience with the Phillies. Last month, Dodgers to exec Andrew Friedman talked the same way about acquiring a past-his-prime Chase Utley to add that dimension to an already talented roster, and Friedman credits that tone with helping produce the next-level expectations (or "culture") that helped produced three NL pennants and a World Series title the last four years.
That might be cherry picking examples of what executives have sought to inject into their clubhouses for generations. And we can never know how much of the perception now is outcome bias
But Contreras is no outsider to the organization. There's no guesswork involved in what he brings or who he is as a player or competitor.
And no guesswork what he thinks about this team at this moment.
He told NBC Sports Chicago in May that even if the Cubs want to sign him to an extension as part of its vision for a next core, he wants to know what that timeline is before he can be sure if he even wants to sign.
Because he wants to win. Now and tomorrow.
Whatever this team looked like after ownership and the front office pulled the rug out from under their best chance with the cost-cutting moves over the winter. No matter what it looks like after the July 30 deadline guts the bullpen and maybe takes a core player or two off the roster as well.
"We want to fight for anything that is in your control, but I also have to understand this is a team effort," Contreras said, "and I cannot take control with my hands [only]."
Manager David Ross, a two-time World Series champion as a player who knows he might not win many games down the stretch with his depleted roster, talked this weekend about the importance of the effort in the face of that head wind of distractions and "future stuff."
"The impact that these [core] guys have had in this organization and this city, you would hate to see that go the other way at the end," Ross said. "I think it's important for us to continue to establish who we are and bring that every single day."
Hoyer said he refuses to call this next phase for this team a "rebuild."
If Saturday's game was any indication, good luck with that.
But if Hoyer is serious, Contreras and Báez should be his highest priorities in the next few weeks and months.
Epstein once offered the preseason platitude that "October starts in March" in his push for urgency.
If a relevant October for this club anytime soon is anything more than a pipe dream, then that October might start right now.
And Saturday's effort — and Contreras' reaction to it — showed all you need to know about why.
Click here to subscribe to the Cubs Talk Podcast for free.
Copyright RSN