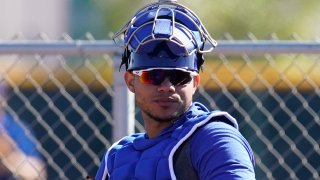 Check out 'special' feat Contreras brothers pulled off originally appeared on NBC Sports Chicago
SAN DIEGO — Cubs catcher Willson Contreras said he hoped one day he and his brother William might be able to do some of the things the Molina family of big-league catchers has done in a three-brother set of careers that has included five World Series titles and nine All-Star appearances.
Check another feat off the list.
The Contreras brothers both hit home runs Tuesday night — rookie William during a three-hit game for the Braves in Philadelphia and Willson hours later in San Diego, after finding out about William before he took the field for pregame work for a late game West Coast game.
It came 16 years after Yadi's older brothers, Bengie and Jose Molina, both homered as Angels teammates off Randy Johnson in a game at Yankee Stadium.
"It was a special moment for my brother," Willson said in Spanish through Cubs interpreter Will Nadal. "And then after I hit that home run, that's when it really hit me. I felt it. It's something special. Growing up together, getting to the big leagues is something really good for us.
"We were still talking about it [Wednesday morning]."
William, who debuted last year, was called up from the minors and pressed into starting duty behind the plate for Atlanta this year because of injuries, took an .806 OPS with six homers into Wednesday.
"I think when William gets more experience," Willson, the two-time All-Star starter, said, switching to English, "of course he'll get better. But I think he could be better than I am."
Copyright RSN