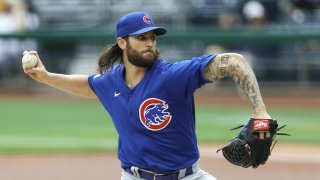 Williams scuffling, but rotation spot still secure originally appeared on NBC Sports Chicago
Cubs manager David Ross gave Trevor Williams a short leash in the Cubs' 9-8 extra-innings loss Saturday. But Ross made it clear the next day: "I do expect him to make his next start."
Williams' spot in the rotation remains secure.
Earlier Sunday morning, Ross said he talked with Williams about his previous night's start.
"I've got a ton of respect for Trevor, Ross said. "… I gave him some managerial thoughts, I gave him some former catcher thoughts, and we had a really good conversation."
Ross said he described to Williams how he makes pitching decisions, and they talked through some of Williams' frustrations on the mound.
Williams has pitched four or fewer innings in each of his past three starts. Two of those starts were under three innings, including his outing Saturday.
Williams gave up three runs in the first inning Saturday. The Tigers' rally included doubles from Robbie Grossman and Nomar Mazara. Grossman hit a changeup located low and middle-out, but Williams said after the game that he felt he'd executed the plan on that pitch. Mazara hit a fastball up and in, off the plate.
Williams threw a scoreless second inning. But after getting two quick outs, he issued a walk and allowed a first-pitch single to prolong the frame. He struck out Miguel Cabrera to get out of the jam.
"He didn't look real sharp," Ross said Saturday of his decision to pull Williams after the second inning. "They were really good at-bats, he was having to work really hard, even when he's getting ahead not being able to put guys away, falling behind to some guys.
"Just the at-bats from the other team – there weren't too many of those guys that seemed fooled by much. It didn't look like it was coming out real crisp. So, with the guys that were rested down there in the 'pen, I thought I had a little bit of length today."
Williams said he'd focus on the positives of the outing moving forward.
"I was able to throw all my pitches in the zone today," he said after the game. "I was able to spin the ball when I needed to. I was able to elevate when I needed to."
Williams side-stepped the question of whether he was surprised Ross pulled him so early.
"As a starter, you're expecting yourself to go nine innings," he said.
Copyright RSN