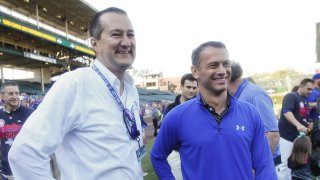 Ricketts on core extensions: CBA 'definitely a variable' originally appeared on NBC Sports Chicago
Javy Báez made it unanimous Friday.
After Anthony Rizzo and Kris Bryant told various media outlets over the past week that the big-market Cubs have the means to sign all three impending free agents if they choose, Báez on Friday joined the championship-core chorus.
"For sure," he said. "They've got the decision. It's not up to us. Hopefully, we stay together. If not, I wish the best to them."
The Big Three obviously are right — at least "theoretically," as Bryant said.
But one often overlooked factor could come into play in an increasingly significant way the longer the club waits to re-engage in talks that fell short in all three cases in recent years — including with Rizzo this spring.
Cubs chairman Tom Ricketts said Friday that uncertainty surrounding upcoming labor negotiations is "an element" that could impact the payroll budget into next season, specifically when it comes to what the Cubs might be able to do with long-term extensions.
"Hopefully, the CBA will get resolved as it has in the past," he said. "But it's definitely a variable. It's kind of hard to handicap what it all means."
The current collective bargaining agreement expires December 1, and tensions between the sides have been rising since soft payroll "caps" and slow-moving free agent markets resulted in pre-COVID-19 dips in average salaries during a time of record revenues — and through contentious negotiations over the 2020 and '21 pandemic seasons.
"Any team going into next year is going to be careful on expenses just because we may end up with a situation where your revenues are delayed," Ricketts said. "But for now we're just assuming that it'll work itself out and we'll be back in the game next year."
MLB and union representatives met in April to open preliminary discussions. But none of the heavy lifting has started on talks that are at least unpredictable — and as fraught with the danger or a labor stoppage as any in two decades.
"I'm always optimistic," Ricketts said of being able to avoid a stoppage — echoing Cubs union rep Ian Happ. "I'm not on the negotiating committee for the league, and I don't speak for anyone else. All I know is that I think both sides have an incentive to do what's right for the game, as well as the players and the clubs. Hopefully, they'll get together in time and there is no stoppage."
Meanwhile, one of the top shortstops in the historic class of upcoming free agents at the position, the team's best hitter in Bryant and the face of the team since the competitive turnaround began in 2015 all say they want to come back and are just waiting for the checks to be written on what they believe are fair-market offers.
Which, of course, could be a matter of markets yet to develop — awaiting performances between now and then as well as owners' financial posture as CBA talks get underway in earnest.
But ultimately, Ricketts said, the decisions on whether the Cubs get aggressive on bringing back one or all of the Big Three will be up to team president Jed Hoyer.
"I feel like I have really good personal relationships with all three of those guys, and the've meant so much to this organization and to the family," Ricketts said. "But you've got to leave it up to Jed. It's really his decision, how he's going to build this team going forward."
Nobody's pretending that involves blank checks or even a return to pre-pandemic payroll commitments if the labor issue gets anything close dicey in the next few months.
But if the ballpark is open, and baseball is on the schedule, the resources are certainly there.
"Listen, they're three iconic Chicago players, and obviously there's going to be a lot of competition for their services in the market," Hoyer said. "Of course, in theory, you'd love to have those players back. Sometimes those are hard decisions that a team has to make.
"I'm not going to shut the door on anything," he added, "but do I think there has to be some awareness of what that would take financially and what that would mean over the next five years and what that would mean to the rest of the team? Of course."
The way the Cubs are playing, it looks at least like they'll stick around long enough to talk after the trade deadline.
"Would you love to have all three of those guys here and in uniform? Yes," Hoyer said. "But of course there are financial considerations. That's unrealistic to say that there's not."
Copyright RSN