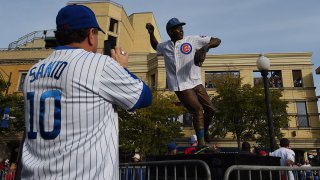 Cubs temporarily removing Williams, Santo statues originally appeared on NBC Sports Chicago
The Cubs on Monday will temporarily remove the Billy Williams and Ron Santo statues from outside of Wrigley Field as they prepare the corner for construction of a planned sportsbook.
The statues will be taken to Comstock Park, Mich. for storage by a company that specializes in handling statue installations and removals.
Both statues, currently located on the corner of Sheffield Ave. and Addison St., are expected to return to Wrigley.
It's unclear at this point if the Williams and Santo statues would be returned to that same corner or if the Cubs could relocate them — perhaps closer to the Ernie Banks statue on Clark St.
A Fergie Jenkins statue is scheduled to be installed during the 2022 season. Jenkins has said more than once he hoped it would be near Banks' statue. The two were roommates while teammates on the Cubs.
RELATED: Cubs unveil rendering for Fergie Jenkins statue
The Williams statue was installed in 2010 and Santo's in 2011.
Copyright RSN