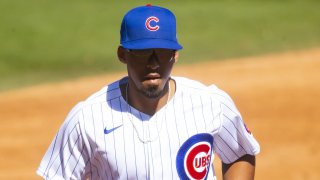 Podcast: Brennen Davis interview on leading Cubs' next core originally appeared on NBC Sports Chicago
As the Cubs recoup assets and build the farm system for the future, who is the one guy the organization can build around to get back to World Series contention?
Ladies and gentlemen, Brennen Davis might be that guy. David Kaplan, Tim Stebbins and Gordon Wittenmyer discuss Davis' potential and the chance he leads the next Cubs core.
Later in the pod, Gordon sits down with Davis to discuss his path to the big leagues, the growing expectations on him and if he is ready to be the key piece for the organization.
(3:10) - Is Brennen Davis ready to lead the new Cubs core?
(9:10) - Will Davis be ready for the big leagues by Opening Day 2022?
(17:00) - Gordon Wittenmyer goes 1-on-1 with Davis
(25:00) - Davis on being a basketball player until going all-in on baseball his senior year of high school
(31:00) - Davis on constantly getting better in a short amount of time
Copyright RSN