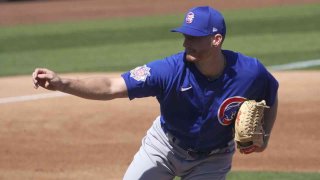 Shelby Miller healthy enough to make history in Iowa originally appeared on NBC Sports Chicago
No-hit mania is not confined to the major leagues. And Shelby Miller's minor-league rehab assignment appears to be going very, very well.
Those might be the top two takeaways from Sunday's combined no-hitter pitched by the Cubs' Triple-A affiliate in Iowa.
And one of those actually matters to the Cubs, who put Miller on the injured list April 22 because of a lower back strain.
The 2015 All-Star and 2021 reclamation project struck out five of the 10 he faced in a three-inning rehab start Sunday — launching the I-Cubs' first no-hitter since Chris Rusin pitched one in 2014. There already have been four no-hitters thrown the majors — most this early in a season since 1917 — as hits and batting average have plummeted throughout MLB while strikeouts and velocity have soared.
Left-hander Brad Wieck, another pitcher in the Cubs' big-league plans this year, contributed two innings in Iowa's first combined no-hitter since 1997. Tommy Nance (three innings) and Ryan Meisinger (one) also pitched in the four-man no-hitter against Indianapolis, won 2-0 by the I-Cubs.
Miller, one of the pitching staff's best performers this spring after signing as a minor-league free agent, struggled in three appearances for the Cubs after being activated last month, allowing five walks and seven hits in two innings before going on the IL.
He was projected to be a big part of the team's pitching depth in a season when depth is considered more important than ever coming off last year's pandemic-shortened, 60-game season.
Sunday was his first minor-league rehab start.
Click here to subscribe to the Cubs Talk Podcast for free.
Copyright RSN