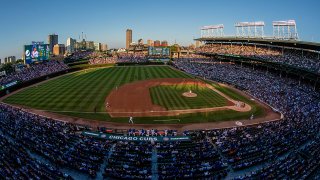 Cubs' revised schedule means two 5-gamers vs. Cards originally appeared on NBC Sports Chicago
If Marcus Stroman and Seiya Suzuki can keep the Cubs in the playoff into mid-September, the league's new schedule could favor their chances at the postseason more than almost any team in the league.
MLB announced its revised schedule Wednesday, with the original opening three-game series pushed to season-ending series Oct. 3-5.
For the Cubs, that means a final six-game stretch of the season against a trade-ravaged Reds team featuring Joey Votto and eight guys he barely knows.
In fact, 16 of the Cubs' final 19 games of the season now are against four teams many consider eliminated from contention last week (also the Rockies, Marlins and Pirates).
The Cubs' two other games forced to be rescheduled by the delay caused by labor talks will be made up as day-night doubleheaders.
Those originally were to be the Cubs' first two home games, against the Cardinals. The doubleheaders — featuring a return to nine-inning games — are scheduled for June 4 and Aug. 23 at Wrigley Field.
It creates five-game series for the Cubs and Cardinals in both cases.
The Cubs open the 2022 season April 7 at home against the Brewers.
Copyright RSN