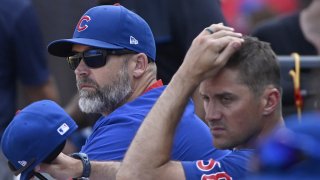 Cubs pull off franchise first as skid hits 11 games originally appeared on NBC Sports Chicago
The Cubs are inching closer and closer to setting a record for their longest losing streak in a single season.
They're still four losses away from that mark but made history Sunday when their skid rolled on against the Marlins.
Sunday's loss was the Cubs' 11th straight — matching their longest losing streak of the season. It's the first time in franchise history they've had two losing streaks of 11 or more games in a single season.
The two losing streaks have come in less than a two-month span — the first between June 25 and July 6 — and are among the longest in Cubs history.
Sunday's loss dropped Chicago to 52-68 this season, including 14-41 since reaching a season-high 11 games above .500 on June 13 (38-27).
They're 10-35 since June 24, another season high point, when they threw a no-hitter against the Dodgers. If they go 10-32 over their final 42 games, they'll hit 100 losses for the fourth time in franchise history.
When the Cubs last lost 100 games (2012), they were rebuilding under Theo Epstein and Jed Hoyer in the duo's first season running the front office.
A loss Monday would tie the 2012 team for the Cubs' longest skid of the century, when they dropped 12 straight games from May 15 to 27 that season.
Rookie Justin Steele is Monday's probable starter as the Cubs and Reds open a three-game series in Cincinnati.
Copyright RSN