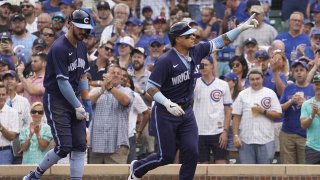 Observations: Báez' big July rolls on in blowout win originally appeared on NBC Sports Chicago
The Cubs beat the Diamondbacks 8-3 on Friday, the opener of a seven-game homestand leading up to next week's trade deadline. They improved to 48-50 this season.
Here are 10 observations from the game.
1. This weekend's series between two sellers is a showcase for contending clubs looking to add before the deadline. Zach Davies, in what could be one of his last starts as a Cub, tossed 5 1/3 innings of two-run ball on seven hits. He left the game with runners on second and third, and both scored.
2. Whether this was Davies' last Cubs start, it was the eighth time in 21 outings where he's gotten an out past the fifth inning. He struck out eight batters, a new season high, in a solid afternoon.
3. Kris Bryant's hamstring looked just fine running from first to third on a hit-and-run single in the third. Bryant started for the first time since Tuesday (right hamstring fatigue/heavy legs), going 0-for-2 with two walks and two strikeouts.
4. Cubs fans will be on Hug Watch for the next week, so speculation kicked into overdrive when Bryant exited after the sixth. But the Cubs were up 8-2, and the playing surface was wet after rain. Ian Happ took over in left field in a double switch.
5. Javy Báez told NBC Sports Chicago he believes he'll be a Cub come Aug. 1. He started the homestand leading up to the deadline with a bang, crushing a three-run homer in the first inning.
6. Trade Báez? How about an extension? The Cubs shortstop, who added a double and went 2-for-4, is on fire this month, going 20-for-58 (.345) with four home runs and 15 RBIs. He's raised his slash line from .227/.275/.470 to .248/.294/.494.
7. Robinson Chirinos did his best Willson Contreras impression, going 3-for-4 with a pair of solo home runs. Contreras got the day off, with the quick turnaround from Thursday night's game.
8. Keegan Thompson could be in line for starts down the stretch this season. The rookie right-hander tossed three innings of one-run ball. He gave up a solo homer in the ninth, the third he's surrendered in as many appearances, while picking up his first career save.
9. The Cubs have won six games following their 11-game losing streak. Half of those are against the Diamondbacks.
10. Matt Duffy came off the 60-day IL (low back strain) and started at third base. In his first big-league game in two months, he went 0-for-3 with a walk and run scored.
On deck: First pitch Saturday is 1:20 p.m. Merrill Kelly (6-7, 4.46 ERA) and Alec Mills (4-3, 4.64 ERA) are the probable starters.
Copyright RSN