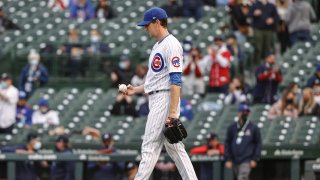 Observations: Braves deal 13-run counterpunch, wallop Cubs originally appeared on NBC Sports Chicago
The Braves crushed the Cubs 13-4 on Sunday at Wrigley Field, dealing a counterpunch to Saturday's 13-4 Cubs win. The Cubs dropped to 6-9 on the season with the loss.
Here's 10 observations from the game.
1. The Braves teed off on Kyle Hendricks early and often on Sunday. Atlanta took the right-hander deep four times in the first inning to take a 6-0 lead off the crack of the bat. 
Hendricks was making his first start in 11 days after missing his scheduled outing Tuesday while feeling under the weather
2. Hendricks made Cubs history for the wrong reasons with that first inning. He became just the third Cubs pitcher ever to allow four long balls in an inning — and became the first to do it in the first inning.
3. Sunday was one of Hendricks' more forgettable starts in recent memory. He gave up seven earned runs in four innings, the most he's surrendered since Aug. 10, 2019 against the Reds (also seven).
4. Hendricks has now failed to pitch five innings in two of his first three starts this season (three innings on Opening Day). The only other season that's happened in his career is 2019.
5. The Cubs trailed big before their first trip to the plate but showed some fight in their half of the first inning, scoring twice on four hits and a walk. An Anthony Rizzo solo home run accounted for one of those tallies.
6. Rizzo is a notoriously slow starter offensively and, after a cold first few weeks, appears to be heating up. He's got hits in each of his last five games and is batting .500 (9-for-18) over that stretch. 
7. Rizzo went deep again in the third inning, marking his 19th career multi-homer game and first since Aug. 29, 2020 against the Reds.
8. The Cubs, despite a 2-for-8 showing with runners in scoring position, actually improved their average in those spots to .137. They entered the day dead last, hitting .128.
9. Joc Pederson went 2-for-3 with a triple, his first multi-hit game of the season.
10. Three days after getting suspended for throwing at a guy he didn't hit, Ryan Tepera hit two batters in one inning. Tepera is appealing a three-game suspension for throwing behind Brandon Woodruff's legs in a game earlier this week.
Bonus: The Cubs haven't won a series since taking two of three from Pittsburgh in the opening weekend. They're 3-8 after starting 3-1.
Next up: The Cubs are off Monday before opening a three-game series with the Mets on Tuesday at Wrigley Field. Taijuan Walker (0-0, 2.61 ERA) and Jake Arrieta (2-1, 3.18 ERA) are the probable starters.
Copyright RSN