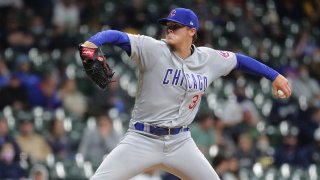 How Justin could be Steele for Cubs before trade deadline originally appeared on NBC Sports Chicago
LOS ANGELES — Get rid of Jake Arrieta?
And then what?
"That's my point," Cubs manager David Ross said.
The Cubs don't exactly have an easy solution for replacing anybody in the starting rotation. Actually, they don't have any solution at all for something like that. Not anytime soon.
"I don't know if anybody's seen," Ross said as the Cubs opened an important four-game series against the Dodgers Thursday night. "When we started pulling from our depth, it hasn't been too great from that standpoint."
The last guy they plugged in as a spot-starting solution was Robert Stock, last week in New York. He was designated for assignment by the end of the weekend.
If Thursday's combined no-hitter by Zach Davies and the Cubs' Big Three relievers at hostile Dodger Stadium showed anything — against a defending World Series champ featuring a lineup with three MVPs — it's that the Cubs are competitive, if not deep. They're resilient, if not feared.
And the only thing keeping them from looking the part of a bona fide National League contender is more starting pitching, either in the form of a reliable front-end guy or multiple arms to provide at least the kind of depth to give Ross matchup options or in-game combinations to get low-scoring games to the majors' best bullpen after five.
All of which might say less about Jake Arrieta than, perhaps, Justin Steele.
Steele, the rookie left-hander with power stuff, starts a minor-league rehab assignment this weekend after recovering from a hamstring injury, and the Cubs get very squishy with their answers when asked about the possibility of Steele using that time to get stretched out enough to rejoin the team as a starting option instead of the one- and two-inning relief role he filled before getting hurt.
All Ross would say is that the plan is for Steele to be stretched out to "more than one inning."
The Steele plan might actually be fluid at this point. The Cubs don't plan to rush back one of their prized young pitchers, not with the bullpen performing as well as it is in his absence and definitely not during the first full season after the pandemic-shortened 2020 — when workload numbers are being scrutinized as closely as performance numbers.
But potential in-house boosts to the Cubs rotation become increasingly important for this division leading team with ery short and shaky start that Arrieta might make, every blister (Adbert Alzolay) or appendectomy (Trevor Williams) that sidelines a starter and every new sign that outside help might be especially hard to acquire because of steep demand this trading season.
That last point was brought home Thursday when agent Scott Boras told NBC Sports Chicago that potential trade-market star Max Scherzer wants assurances of a contract extension to waive his full no-trade rights and allow the Nats to trade him.
For now, the Cubs await Williams progress after he threw in the bullpen again Thursday, monitor the staying power of last year's no-hit sensation, Alec Mills, during his fill-in duty in the rotation and mull every option — however few — they might have in-house to strengthen the one glaring position-area weakness.
Ross said he hasn't gotten far enough dow the road in planning or even lining up what the best options might be for the five-man look of the rotation once Williams is ready to return.
Will he consider Mills one of his five best options by then? Will he consider Arrieta no longer a top-five option in the moment? And if Arrieta is pitching well again by then, is Williams an option for another role?
And what about Steele? Or maybe Keegan Thompson, another rookie?
"We just try to compete with what we've got, and when we do have a competition problem, then we assess that with the numbers," Ross said.
"We're going to put the best people in the rotation that give us the best chance to win."
For now, keep an eye on Arrieta as the man who last threw a no-hitter at Dodger Stadium before Thursday (in 2015) — the man who last won a playoff game for the Cubs, against this same team two years later — takes the mound.
Ross, who caught one of Arrieta's two career no-hitters, calls Arrieta's rotation status "kind of in the moment," even as he talks about trusting the veteran's track record, competitiveness and increased velocity in Saturday's rough start.
"I haven't thought that far ahead, about how long you let that go," Ross said of Arrieta's nine-start stretch that includes a 7.58 ERA, ,965 opponents' OPS, only one quality start and four starts of less than four innings.
"You get to the point when you have to make those tough decisions and assess the last few outings maybe or even the past [one], how he looked and repeated," Ross said. "It's hard to look too far ahead in this game with what decisions you can make on that front.
"But we're not going to make excuses. This is a performance league."
Copyright RSN