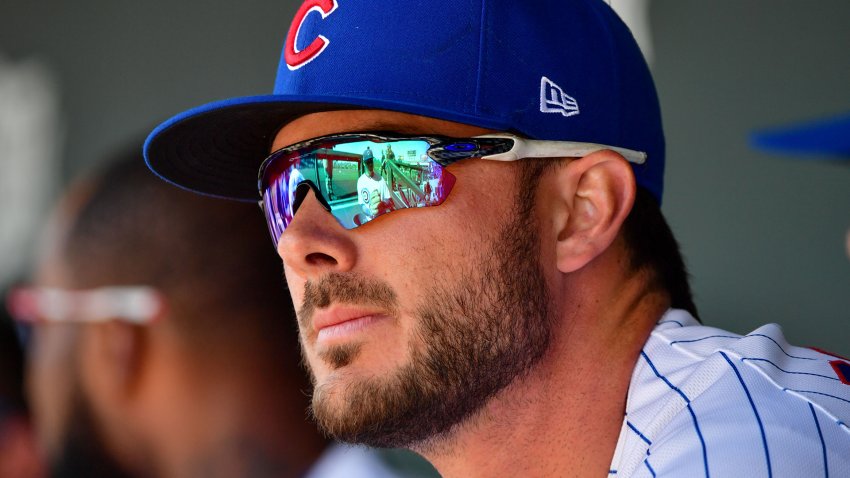 Hoyer 'not anticipating' Bryant trade as Cubs open spring originally appeared on NBC Sports Chicago
Six years after manipulating Kris Bryant's service time to get this additional, 2021 season of club control over their All-Star third baseman, the Cubs don't seem sure about what to do with it.
Back then, the decision involved visions of helping to keep a juggernaut lineup chugging toward what might be a third or fourth World Series by now.
These days, Bryant is more than two years into trade rumors of varying degrees of veracity as he prepares to open his seventh spring training with the Cubs this week — a spring that team president Jed Hoyer all but assures will be a quiet period, devoid of trade talks.
For now. As far as Hoyer knows.
"Right now we're not currently engaged in any trade talk. We haven't been actually for a little while now," Hoyer said Tuesday on the eve of first pitchers and catchers workouts in Mesa, Arizona. "Could someone make that phone call? Yeah, someone could. But I'm not anticipating it because right now we're not engaged in anything and we haven[t been for a bit. so I don't expect it I guess is probably the simplest way to say it."
For "a bit"? For " little while now"?
So those reports about the Mets and Cubs recently engaging in trade talks for Bryant were inaccurate?
"That's what I'm saying," Hoyer said.
Left unsaid is what the Cubs' next intentions are for Bryant, or the other core players nearing free agency as the Cubs' "sustained success" train pulls into the 2021 season another year removed from Game 7 in Cleveland.
Bryant, Javy Baez, Anthony Rizzo — and newcomer Joc Pederson for that matter — are all former All-Stars entering walk years before next winter's free agent market.
They're all here now and expected to be a part of an Opening Day lineup against the Pirates that, for what it's worth, looks no different — with the exception of Pederson for Kyle Schwarber — than the one Hoyer and Theo Epstein before him criticized after each of the last three seasons and threatened to dismantle.
In fact, that lineup is touted now as the strength of a team that blew up its pitching staff during the offseason.
But for how long?
If COVID-19 doesn't force another shutdown or schedule contingency, the July 31 trade deadline could be the most significant day for the franchise in years.
Hoyer said he intends to sit down during spring training with the core players individually to "talk to them about their futures," he said. "We'll talk about contracts, and we'll also talk in general. … It's the perfect time for it."
But nobody inside or outside the organization expects extensions for all or even most of those players at this point — least of all Bryant.
"We've said all along, very clearly, we'd like to keep some of these players, and that would be great," Hoyer said. "But it's unrealistic to keep all of the players who were a significant part of 2016. That's just a reality."
Built into all the payroll slashing and one-year commitments added to the Cubs roster this winter is a financial flexibility next winter the front office hasn't had in perhaps decades. Only three players — Jason Heyward, Kyle Hendricks and David Bote — are currently signed for the 2022 season at a total of $38.5 million.
However, built into the timeline of the next calendar year is a potentially contentious negotiation over a new labor contract and the threat of a strike or a lockout.
Neither of those two scenarios was part of those juggernaut visions six years ago when the Cubs ticked off Bryant by sending him back to the minors to start the 2015 season to manipulate his service time after the majors' best offensive spring since Ryan Howard's performance with the Phillies nine years earlier.
Whether that's worth considering for any reason beyond its value as an interesting footnote, it's hard to forget as the Cubs play out Bryant's final months with the team toward the trade deadline, after engaging in some trade talks involving him each of the last two winters.
"We were involved in a lot of rumors this year, some that were just completely inaccurate," Hoyer said, apparently referring to the Nationals' reported interest early in the offseason, "and then I would say some were just sort of exaggerated — the seriousness of those discussions."
Read: Mets.
Then read this pitching-depleted Cubs roster for what it's worth — a roster Hoyer said he expects includes all the players who will play key roles this season for the team. And read the 2021 calendar.
Because the end game for that seventh year of control they stole from Bryant is afoot for the Cubs — playing out against a 2021 landscape of cold business dealings, bittersweet personal feelings and a pandemic.
A landscape impossible to foresee six years ago — and that has long been without any vision of juggernauts.
Cautionary tale? Maybe.
Regardless, the final months in a Cubs uniform for the franchise's lone MVP of this century starts in the next few days in Arizona.
And the whether the Cubs can steal an extra two months or so to keep Bryant in Chicago probably depends on how well he and those other short-time All-Stars hit — probably a lot more on how Hendricks, Jake Arrieta and the rest of the rotation pitches into the July trading season.
"That's a pretty important time, and we'll have to make some decisions," Hoyer said. "My hope certainly is that we're on the buy side of that, but those are the hard decisions that you have to make in this job if we're not playing well."
Copyright RSN