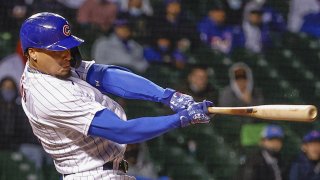 Cubs injury report: Báez available off bench vs. Padres originally appeared on NBC Sports Chicago
Cubs shortstop Javy Báez is again out of the lineup with a bruised right thumb Wednesday but available off the bench as the Chicago Cubs take on their former ace, Yu Darvish, and the San Diego Padres.
Cubs manager David Ross said Wednesday morning that Báez had been available in the Cubs' 7-1 win at San Diego Tuesday as well. Báez has been out since hitting a seventh-inning ground ball off the end of his bat Sunday at San Francisco.
"Things looked a lot better yesterday," Ross said before Wednesday's day game. "Just, at the end of last night, I had no way of knowing whether he was going to be ready today."
With Báez out of the lineup Wednesday and everyday players like utility man Kris Bryant getting planned rest on the getaway day, the Cubs put a unique lineup in the field in the series finale at San Diego. Ian Happ, usually the Cubs center fielder, is starting at second base Wednesday for the first time since 2019. Sergio Alcántara is penciled in at shortstop. Rafael Ortega draws the start in center field.
The Cubs have an off-day Thursday before the opening a three-game series against the Cardinals at Wrigley Field.
Copyright RSN