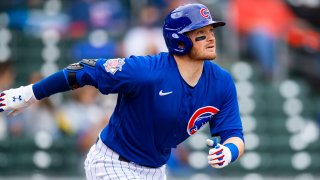 Happ carted off field after collision in center with Hoerner originally appeared on NBC Sports Chicago
A wild game in Cincinnati got woolly for Cubs center fielder Ian Happ in the eighth inning Sunday when he was carted off the field after a collision with second baseman Nico Hoerner.
Happ, who tied the slugfest at 12-12 with a three-run homer in the top of the eighth, appeared to take a knee to the midsection and hand to the face at the point of the collision — with Hoerner making the over the shoulder catch of Tyler Stephenson's one-out popup as they collided.
Happ remained on the ground for several minutes, came up with a bloody nose and after being helped to his feet needed to sit back down. He was alert and did not appear to suffer any injuries to his extremities before being taken off the field by cart.
The Cubs had one bench player left as Happ departed, inserting gimpy catcher Willson Contreras — who had left Friday's game with a thigh injury — behind the plate.
Left fielder Kris Bryant moved to center to cover Happ's absence, with catcher Wolters going to second and Hoerner moving to left.
Happ, who had struggled much of the season and sat out of the starting lineup three games during the week, had three hits Sunday.
Copyright RSN