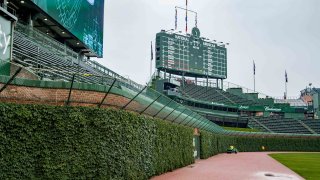 Cubs tab former Dodgers, Astros exec as assistant GM originally appeared on NBC Sports Chicago
After recently introducing Carter Hawkins as their new general manager, the Cubs and team president Jed Hoyer are set to make another addition to the front office.
The Cubs are expected to name Astros executive Ehsan Bokhari assistant general manager, according to Sahadev Sharma of The Athletic.
Bokhari, a University of Illinois grad, joined Houston's front office as director of research and development in November 2018. He was named senior director of player evaluation in December 2019.
Bokhari contributed to amateur, professional and international player evaluation in his recent role with the Astros.
Prior to joining Houston's front office, Bokhari spent four seasons as a senior analyst in the Dodgers' R&D department from 2015-18.
Bokhari will join Craig Breslow and Jeff Greenberg as assistant GMs in the Cubs front office.
Longtime Cubs assistant GM Randy Bush recently stepped aside, moving into an advisory role.
Copyright RSN