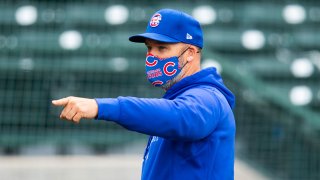 Ross ejected vs. Cardinals for arguing balls and strikes originally appeared on NBC Sports Chicago
Cubs manager David Ross was fed up after a called second strike to Kris Bryant in the fourth inning at St. Louis on Sunday.
Home plate umpire Erich Bacchus ejected Ross from the dugout for arguing balls and strikes. Then, the manager came out to talk with Bacchus face-to-face. Ross periodically adjusted his face mask to make sure it didn't fall below his nose as he shouted.
On the ESPN broadcast, Ross could be heard saying, "Be better."
The Cubs and Cardinals were tied in a scoreless game at the time. The second called strike of Bryant's at-bat was a changeup that appeared to cross the plate below the strike zone, but it wasn't as blatant as a second-inning strike call on a pitch off the plate to Javy Báez.
Bryant went on to strike out swinging the next pitch.
Cubs catcher Willson Contreras was the next batter, and he drew a walk. Contreras stared down Bacchus before tossing his bat to the dugout and heading to first base.
Bacchus made his MLB umpiring debut last August.
Copyright RSN