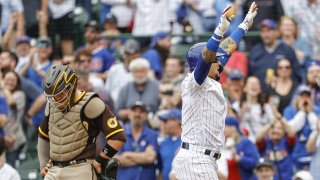 Money talks as Cubs seek June boon in prove-it stretch originally appeared on NBC Sports Chicago
Maybe the Cubs are pretty damn good after all.
"I think we're pretty damn good, yeah," manager David Ross said after the point was raised on the heels of the Cubs' series sweep of the Padres — who had the best record in the majors when they got to town Sunday night.
"I think these guys believe that. I think they know that."
In fact, young pitcher Adbert Alzolay was talking World Series after beating the Padres 6-1 Wednesday to finish off the sweep.
It took veteran All-Star Anthony Rizzo to temper the kid's enthusiasm: "Yes, we are in first in the standings, but there's a long, long way to go."
About 2,000 miles before their next game.
And at least a week — maybe a month — before they can start feeling like this five-week surge for a team in an admitted transition year might be ready for prime time in October.
Or at least ready to start reaching for the owners' heavily guarded wallet.
If this sweep of the Padres meant anything as the Cubs opened a tell-tale June it was at least that much.
They've put themselves on the brink. And by brink we mean Brinks.
It's cash money time for the Cubs. Time to deliver in June on the order they placed with a 21-8 run since April.
Time to put the owners' money where team president's mouth is.
In the last four weeks, the Cubs went 11-1 against the National League-favorite Dodgers, the NL East-leading Mets, a Padres team that had the league's best record and a Cardinals team that was in first place when they played — losing only a 2-1 game to the rival Cards on the road in those series.
"I mean, if you see this whole team, all the way around, you'll see that we have the whole talent to compete, to win another World Series for this city," said Alzolay, who might be the team's best pitcher at this point — allowing one run and striking out seven in five innings on this day.
"I think that's the mindset right now."
That was nobody's mindset when the Cubs traded Cy Young runner-up Yu Darvish in a salary dump five months ago, backfilled on a shoestring and openly declared 2021 a season of "transition."
But two days into June, riding a 14-3 wave into a seven-game trip to San Francisco and San Diego, they're unexpectedly poised to force force ownership and the front office into a put-up-or-shut-up position at the trade deadline with another few weeks of this.
Team president Jed Hoyer signaled as much last week when he said he expected to "learn a lot about this team over the month of June because to go there and have success [against that schedule], that's certainly a mark for a team that has a chance to compete in the postseason."
West Coast trips historically have been brutal for the Cubs even in the best of seasons. And they have two this month alone, with a four-game rematch with the Mets in New York in between — possibly including an actual date with Jacob deGrom this time around.
Hoyer said he believes ownership will provide the resources to add if the Cubs survive the June  gauntlet looking like a deadline buyer.
Some of the players believe the other guys might consider the Cubs the actual gauntlet.
"As another team you know 'I have to bring my A game because these guys are playing just unreal baseball,' " Alzolay said. "I feel it for sure. I'm pretty sure the other team feels it, too."
Said Ross: "The guys in that room believe in themselves and believe in each other. You see it on a daily basis. We've got some really good players. There's a lot of hardware that floats around that room."
Even with injuries sidelining chunks of the roster at a time for the last several weeks, three-time All-Star Rizzo returned from a back issue Tuesday and had three big hits Wednesday, including a go-ahead, two-run double in the fifth. Two-time All-Star and 2018 MVP runner-up Javy Báez added his 14th homer of the season in the seventh.
And former MVP Kris Bryant opens the Giants series Thursday with an MVP-worthy .996 OPS after a scheduled day of rest.
That trio, of course, leads a star-studded cast of walk-year Cubs playing for contracts.
Talk about money.
Money that walks. Money that talks.
Money that's on the line the rest of a month that will define this Cubs season.
No matter how many doubters they've already proven wrong.
"I don't think we've really proven much," Rizzo said. "It's June 2. We've proven to each other how much fun we're having and how good we are. But we've got four more months left.
"Stories were written about how good and bad people were this time last year after 60 games," Rizzo said. "But it's 162, and we're definitely not going to get too high and say, 'Oh, we're proving everyone wrong' because we've got a long season left."
Copyright RSN