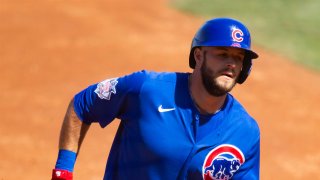 Bote tests negative after COVID-19 scratch originally appeared on NBC Sports Chicago
Even as they cleared one coach to return to action, the Cubs on Tuesday took no chances with even the slightest potential COVID-19 symptoms exhibited by another player.
Second baseman David Bote was a late scratch from the lineup because of an "upset stomach" ahead of the Cubs' 3-1 victory over the Mets in their series opener at Wrigley Field.
"We've got to make sure he's OK," manager David Ross said. "He's been through a couple tests, and everything's fine from that standpoint, but we have to be extra cautious."
Eric Sogard replaced Bote in the lineup and delivered two of the Cubs' four hits — including a two-out, RBI single in the fourth and a walk.
Bote was the sixth Cubs player to miss at least a game after exhibiting even mild symptoms because of precautionary measures taken by the team since first base coach Craig Driver and subsequently bullpen coach Chris Young tested positive in the last two weeks.
None of the six players tested positive, the team said.
Driver returned Tuesday.
Copyright RSN