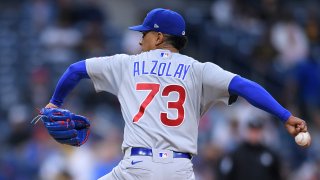 Cubs' rotation gets boost with Alzolay returning Monday originally appeared on NBC Sports Chicago
Prior to hitting the injured list with a blister, Adbert Alzolay was pitching as well as anyone in the Cubs starting rotation.
Two weeks later, the 26-year-old is confident he's back to where he was prior to that injury.
"Oh, heck yeah," Alzolay said Saturday.
That's good news for the Cubs, who will get a big boost Monday when Alzolay comes off the IL to start against Cleveland.
"It's a big piece we've been missing," manager David Ross said.
The blister on Alzolay's right middle finger hampered his performance in his last start, June 7 against San Diego. He walked a season-high five batters in three innings, allowing four runs.
But before that outing, the right-hander held a 3.62 ERA in 10 outings, along with an impressive 0.91 WHIP. He's given opposing teams a different look in the Cubs' command-control rotation, with his mid-90s velocity and a sharp slider.
"He's been one of the guys that has really given us consistent starting pitching with real swing and miss," Ross said. "He's been a real asset to our rotation this year."
That has certainly been evident the past few weeks. With Alzolay and Trevor Williams (appendectomy) sidelined, the Cubs have had to dip into their pitching depth to cover rotation innings, backfilling the rotation in three of their last eight games.
They've gotten short outings in those spot starts, leaning heavily on their bullpen.
"Getting him back on the mound and starting games for us is a big piece and a step towards us getting back to full strength," Ross said.
The Cubs will be cautious with Alzolay's usage as he builds back up. He threw a 40-pitch bullpen this week, saying Saturday his arm is feeling good and he's ready to pitch as long as the Cubs need.
Alzolay is ready to go.
"I can't wait to get out there on Monday," he said.
Copyright RSN