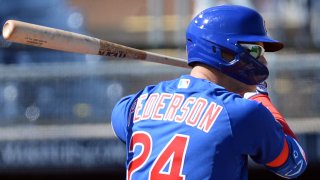 Cubs activate Pederson vs. Dodgers, option reliever originally appeared on NBC Sports Chicago
Perfect timing. The Cubs activated left fielder Joc Pederson off the 10-day injured list Monday, before opening a three-game series against the Dodgers.
Pederson, a former Dodger, spent a little less than two weeks on the IL with left wrist tendonitis. In a corresponding move, the Cubs optioned right-handed reliever Keegan Thompson to the alternate site. The Cubs will transfer Thompson to Triple-A Iowa when the delayed season begins Tuesday.
Pederson is leading off and starting in left field against the Dodgers Monday.
After leading the Cactus League in home runs this spring, Pederson a slump to start the season. He enters play Monday hitting .137.
After playing with a short bench all season, the Cubs' roster moves Monday shift the pitcher-position player ratio. The Cubs bench expands to five players, and the bullpen shrinks to eight.
Injuries left the Cubs shorthanded this weekend. A series of short starts out of the pitching rotation have taxed both the bullpen and bench (with double switches).
On Sunday at Cincinnati, the Cubs used up their whole bench. When outfielder Ian Happ left the game after a collision, the Cubs had to bring in catcher Willson Contreras, despite the fact that he was recovering from right thigh tightness.
Copyright RSN