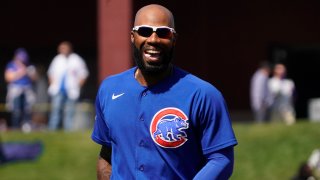 Cubs activate Heyward off IL, Marisnick not far behind originally appeared on NBC Sports Chicago
The Cubs have activated right fielder Jason Heyward from the 10-day IL, the club announced. He is penciled in the lineup Saturday at San Francisco, batting sixth.
In a corresponding move, the Chicago Cubs designated outfielder Nick Martini for assignment.
Heyward has been out for about two weeks with a left hamstring strain. One of the Cubs' best hitters in 2020, Heyward is batting .183 in a slow start to the season. But in the last full game he played, Heyward went 2-for-4 with an opposite-field home run off Nationals southpaw Jon Lester.
Outfielder Jake Marisnick (right hamstring strain) is scheduled for tests and running on Saturday, Cubs manager David Ross said. Marisnick could have another day off on Sunday, depending on his body's reaction.
"Still some soreness from playing," Ross said of Marisnick Saturday. "… The recovery process didn't go quite as smooth as Jason's, so we're going to give him one more day and then reassess tomorrow. Want to make sure these guys are 100 percent before we get them back."
Marisnick and Heyward went on a rehab assignment together at Triple-A Iowa this week, but Marisnick has been out for a week and a half longer than Heyward.
With Heyward coming off the IL Saturday, the Cubs are down to 10 players on the IL, including infielders Matt Duffy (lower back strain), Nico Hoerner (strained left hamstring) David Bote (dislocated left shoulder).
"I don't think most of those guys are ready this road trip, from the plans that are in place," Ross said. "A lot of them are day-to-day, and you don't want to get too far ahead of yourself."
Copyright RSN