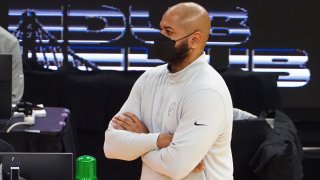 Cavs coach Bickerstaff out vs. Bulls for personal reasons originally appeared on NBC Sports Chicago
Cavaliers head coach J.B. Bickerstaff won't coach Wednesday's matchup with the Bulls due to personal reasons, the team announced.
Assistant coach Greg Buckner will coach in Bickerstaff's place. Bickerstaff is expected back for the Cavaliers' April 23 game at the Charlotte Hornets.
For the Bulls, the game marks the end of a two-game road swing before returning home for the Hornets on Thursday. Still without the COVID-19 health and safety protocol enlisted Zach LaVine, they ride in on a two-game winning streak, having held the Cavaliers and Boston Celtics under 100 points in each of their last two contests.
The winner of Wednesday's Bulls-Cavaliers bout will win their season series after they split the previous two matchups.
Copyright RSN