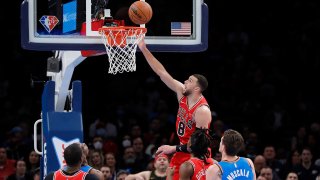 LaVine returns earlier than expected to mixed reviews originally appeared on NBC Sports Chicago
On a night the Chicago Bulls rested DeMar DeRozan, the Bulls' fourth-quarter composure took a break as well.
That's probably not a coincidence.
Zach LaVine deserves credit for returning one game earlier than expected from his left knee soreness and for stuffing the box score with 21 points, seven rebounds, seven assists and two steals in Monday's closer-than-it-needed-to-be victory over the Thunder.
But on a night the Bulls almost coughed up a 28-point, third-quarter lead and committed seven of their 19 turnovers in a fourth quarter in which the Thunder outscored them by 13, veterans LaVine and Nikola Vucevic couldn't produce the same calming influence that DeRozan often does.
Officially, LaVine committed no fourth-quarter turnovers. And his offensive presence was notable.
It's also not surprising that coach Billy Donovan focused more on Coby White's and Ayo Dosunmu's decision-making down the stretch---they combined for three fourth-quarter turnovers---and didn't single out veterans. Even though Vucevic had two fourth-quarter turnovers.
But from his part in a head-scratching, 8-second violation to getting backcut by Josh Giddey with 14.8 seconds left, LaVine's defensive and decision-making growth stalled down the stretch.
And if that sounds like nitpicking a player who flew to Oklahoma City because he was tired of sitting out and then logged an unexpectedly high 35 minutes while playing through a trip to the locker room after taking a shot to the eye, well, that's the standard to which LaVine is judged these days.
"We were not able to handle their pressure," Donovan said. "This is where I think there's opportunities to help these guys (White and Dosunmu) grow and develop them for those situations. Two of our primary ballhanders in Lonzo (Ball) and Alex (Caruso) are not here.
"When you get into these situations in the fourth quarter where teams turn up the defensive pressure and pick up fullcourt, you have to be able to handle the basketball. We couldn't even get into offense. Zach got held up in some situations. Vooch had some situations. It wasn't even a matter of what we were running was bad. We couldn't even get into anything."
LaVine hadn't played since exiting the Jan. 14 home loss to the Warriors in the first quarter with left knee soreness. An MRI exam performed the following day revealed no structural damage, although LaVine confirmed reporting that he had been playing through swelling in the same knee in which he once tore an ACL.
LaVine also revealed he has been dealing with a bone bruise.
"Just playing through it because it's a big-time season for all of us. I try to play through a lot, don't complain about it. When I went up and grabbed that rebound, it just didn't feel right when I landed," LaVine said, referencing the night he left the Golden State game. "Luckily, it was nothing structural. But I don't like messing around with knee injuries, especially on my left side.
"Just gave it some time to rest. I didn't want to keep playing through it because obviously something bad could happen if you keep playing with that."
LaVine got to the line 10 times against the Thunder. The Bulls don't win the game without him.
"It felt good. I got tired of sitting at home, watching. I'm about as healthy as I can get. It just sucks sitting at home and not being able to help," he said. "I think you guys know I hate missing games. Just tried to come back as quick as I could."
This is an admirable stance. And LaVine certainly had to be winded in the fourth quarter. But if the Bulls want to max out this season, they can't almost cough up 28-point leads to inferior teams.
Donovan, as is his nature, spun the tribulations that White and Dosunmu faced in struggling to handle pressure to a positive sheen, calling it a growth opportunity. And he also absolved LaVine.
"It was a lot to ask of Zach considering it was his first game back missing so much time," Donovan said. "I thought he was bouncy. I thought he looked really good physically."
The Bulls escaped with a victory. LaVine is back. DeRozan will join him Wednesday at home against DeRozan's former team in the Raptors. Onward.
Copyright RSN