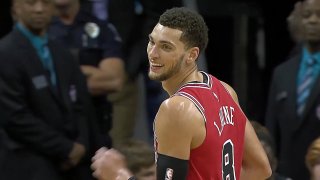 LaVine, Green could return for Bulls Monday vs. OKC originally appeared on NBC Sports Chicago
Zach LaVine and Javonte Green will travel to Oklahoma City and could return one game earlier than expected from their respective injuries for Monday's meeting against the Thunder.
That's the word from Chicago Bulls coach Billy Donovan, who initially had ruled both players out for the entire three-game trip that also includes Sunday's game in Orlando.
"Provided everything goes well, see where they're at physically (Monday), there is a chance both those guys could be available," Donovan said via Zoom before Sunday's matchup with the Magic.
LaVine hasn't played since exiting the Jan. 14 home loss to the Golden State Warriors with left knee soreness. An MRI exam the next day revealed no structural damage to a knee that LaVIne once tore his ACL in, and the Bulls said that day his absence wouldn't be an extended one.
Still, returning such a dynamic player one game earlier than expected at a time the Bulls are dealing with the double gut punch of losing Lonzo Ball and Alex Caruso to knee and wrist surgeries for upwards of two months is significant. It also can alleviate the heavy workload that has landed on the plates of Coby White and Ayo Dosunmu.
"He's been on the floor working out the last few days. He's doing well," Donovan said. "I spoke to him (Saturday) for a little bit."
As for Green, he hasn't played since suffering a groin injury in the Bulls' dramatic New Year's Eve victory at the Indiana Pacers. Green has started 18 games at power forward and his value isn't measured in his statistics. His defensive energy and athleticism have positively impacted multiple games.
Both players navigated Sunday workouts without issue, according to Donovan.
Copyright RSN