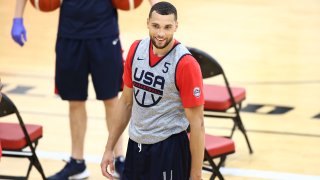 Bulls' Zach LaVine cleared for Olympic participation originally appeared on NBC Sports Chicago
Zach LaVine never hid his strong desire to represent his country on the Olympic stage. And now, after a brief speed bump, the Chicago Bulls' All-Star guard will get his chance.
One day after USA Basketball announced that LaVine landed in the program's health and safety protocols, team officials announced late Tuesday that LaVine had been cleared to rejoin the team. In a statement, USA Basketball would meet the team Thursday afternoon in Tokyo.
The U.S. men's team opens its bid for a gold medal on Sunday against France. LaVine has started the last two games.
LaVine, who landed in the health and safety protocols for a contact tracing situation, couldn't join the team flight that left Las Vegas on Monday. But he quickly exited the health and safety protocols and will fly to meet the team in time for the opener.
Team USA, which already has had its share of COVID-19-related incidents with Bradley Beal dropping off the roster and Jerami Grant moving in and out of the health and safety protocols for contact tracing, will also get reinforcements now that the NBA Finals have concluded. Khris Middleton and Jrue Holiday from the champion Bucks and Devin Booker from the runner-up Suns are scheduled to fly to Tokyo later this week.
LaVine missed 11 games down the stretch of the Bulls' regular season following a positive COVID-19 test that he disclosed upon his return. Sources at the time indicated that LaVine had taken one shot of a two-shot vaccination schedule, producing the positive test one day before his scheduled second shot.
USA Basketball's initial statement regarding LaVine used language that strongly indicated a contact tracing situation. It said LaVine remained in the U.S. "out of an abundance of caution" and indicated that team officials were hopeful he would rejoin the team later in the week.
Soon, LaVine will be on his way. A gold medal is the goal.
Click here to follow the Bulls Talk Podcast.
Copyright RSN