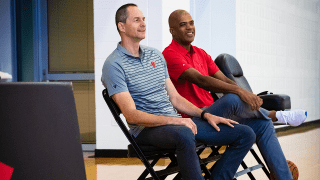 Podcast: What does AK think of Bulls roster with Zach Harper originally appeared on NBC Sports Chicago
One quarter of the 2020-21 campaign is now gone, and it has flown by. In a season where Artūras Karnišovas and Marc Eversley are evaluating the Bulls' roster, what do they think about this team? Which combination of the core should stay? To help answer these questions and join in on the fun with Jason, K.C., and Rob, The Athletic's Zach Harper stops by. The crew also dives into the "gunner" narrative around Zach Lavine and the improvement the Bulls have made under Billy Donovan. Later in the podcast, Jason, Rob, and K.C. discuss Wendell Carter Jr.'s injury, if Zach Lavine is an All-Star, and Jason tributes his friend, the late Sekou Smith.
(3:30) - How can the Bulls get to the next level in national attention?
(11:00) - The impact of coaching on a team
(18:00) - Is the style the Bulls are playing offensively sustainable?
(25:20) - NBA fans making excuses for certain players and not others
(29:00) - How will the starters respond to being outplayed by the bench?
(36:30) - Is Zach LaVine an All-Star?
(41:34) - Jason's tribute to Sekou Smith
Listen here or via the embedded player below:
Bulls Talk Podcast
Subscribe:
Copyright RSN