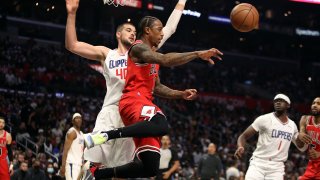 How Bulls navigated successful trip without Vučević originally appeared on NBC Sports Chicago
The Chicago Bulls have endured some rough West Coast trips over the years, and this season's version began with the sobering news that Nikola Vučević would miss it following a positive COVID-19 test.
Questions surfaced: How would an already undersized team respond? Would the Bulls experience a mini outbreak of positive tests like the 76ers did? Could DeMar DeRozan and Zach LaVine maintain their torrid offensive pace? And could Alex Caruso and Lonzo Ball continue wreaking their defensive havoc?
Answers followed: Quite well, thanks in part to the non-stop athleticism and energy of Derrick Jones Jr. and Javonte Green. No new cases under increased testing for a fully vaccinated team. Yes and yes, with both duos providing multiple highlight-reel sequences.
"Listen, when things happen like it happened with Vooch, you find out something new about our team," coach Billy Donovan said. "I really, really liked the way Javonte and Derrick played together. And if Vooch is on this trip, Derrick probably never gets that opportunity."
LaVine downplayed any knowledge gleaned from the 3-2 trip, saying it showed him nothing he didn't already know.
"We're a resilient team," he said. "If there's a bump in the road, we respond the right way."
Indeed, the Bulls without Vučević did exactly that. Here are three storylines that jumped out from the successful trip:
CLOSING OPTIONS
In recent seasons, the Bulls' fourth-quarter attack centered on a give-and-go for LaVine. You know the kind, paraphrasing the great World B. Free: Give him the ball and the other players go to heck.
Isolation ball is in the past. So are double- and triple-teams crowding LaVine.
"He had to carry an enormous load," Donovan said of LaVine's past performance. "A lot of times coming down the stretch of games like that, maybe you can use a play out of a timeout to use him as a decoy. But most of the possessions you're going to have to find a way to incorporate him to get him to create. And I think to have DeMar and when Vooch gets back healthy, even Lonzo (Ball) who is another playmaker and handler. Alex (Caruso)."
Donovan can be forgiven for not finishing the thought. It's what happens when a coach is tantalized by the potential opportunities.
LaVine scored 12 of his game-high 36 points in the fourth quarter of Friday's trip-ending victory over the Nuggets, including making both of his 3-point attempts. But he did so on efficient 5-for-7 shooting because of the threat of DeRozan, who assisted on LaVine's first 3-pointer.
In fact, DeRozan sank eight straight free throws in the final 75 seconds, getting to the line on vintage moves in pick-and-roll actions with LaVine. Donovan ran most of his closing offense through DeRozan, who has become one of the game's premier clutch scorers.
"They gotta pick either me or him," LaVine said. "One of us is gonna get a good look or create a play for somebody."
Donovan called LaVine one of the game's "best tough shotmakers." And he's right. But combine that with DeRozan's steady ability to get to his spots and to the line---he's fourth in the league at 8.1 attempts per game---and there's trouble for opposing defenses.
DeRozan leads the NBA with 118 fourth-quarter points. LaVine is second with 101. That's something.
"Obviously, when the ball is in me and DeMar's hands we're gonna make the right play," LaVine said. "I think pretty much every time, with me and him shooting or making the right pass."
SMALL BALL SUCCESS
Give Donovan and the coaching staff credit. After the trip-opening loss to the Warriors, who own the league's best defense, the Bulls really leaned into small ball.
That loss to the Warriors exposed the Bulls' need for a dynamic roller or passer so that defenses can't load up on DeRozan and LaVine. Tony Bradley can offer rim protection. But he's a reserve who's currently forced to be a starter, and he doesn't excel in that role. It's where Vučević has so much value. Defenses must respect his shooting and passing ability.
Enter Jones Jr., who threw down five dunks against the Nuggets, including one highlight-reel offering that caught a former two-time slam dunk champion's eye.
"That was ridiculous," LaVine said. "He jumped from like right outside the dotted line with no gather, with no dribble. You're locked in in the game, but it just takes you back when you really see that."
Jones Jr., a one-time slam dunk titlist, yawned.
"In-game, I'm not even going to lie, that's not even top 10," he said. "I've got so many dunks. I dunked on so many people in this league."
Donovan likes the look so much that he didn't rule out still using it whenever Vučević returns. Jones Jr. gives the Bulls multiple switching options on defense and adds a layer of athleticism offensively that oozes potential.
"I think he's rolling to the basket really well and getting in the pocket and he's finding ways along the baseline to get his offensive rebounding," Donovan said. "He's really an elite, explosive athlete. And he's got a really good IQ in that mid-post, pocket area."
DEFENSIVE DEMONS
The small-ball approach didn't just limit itself to Jones Jr. Caruso, Green and Ball all took turns playing power forward.
Green is a non-stop blur of activity, grabbing six of his nine rebounds against the Nuggets off the offensive glass. Caruso moved from guarding Steph Curry to Paul George with aplomb. Ball helped hold the Trail Blazers' dynamic backcourt duo of Damian Lillard and CJ McCollum scoreless in the first half.
Caruso and Ball's constant double-team of Anthony Davis frustrated the Lakers star so much he eventually drew two technical fouls and an ejection.
Caruso ranks second in the league in both deflections and steals. He has been a screen-navigating terror who stripped Curry of the ball twice on the same possession and then turned in a gem for the ages on Monte Morris on Friday.
"He brings great intensity on the defensive side," Lakers coach Frank Vogel said. "I think his winning habits and winning DNA are a big part of their resurgence."
Ball had a sequence late in the first quarter in which he avoided two screens by the same screener on the same possession, stripped Will Barton and fed Zach LaVine for a transition layup. The Bulls rank second in the NBA with 20.1 points off turnovers.
They also take care of the ball, posting a turnover percentage of 13.5 that ranks seventh in the league. In fact, the Bulls own top-10 rankings in most of the bellwether statistics, including offensive and defensive rating.
But they're not satisfied.
"We have a long way to go," DeRozan said.
Watching should be fun.
Copyright RSN