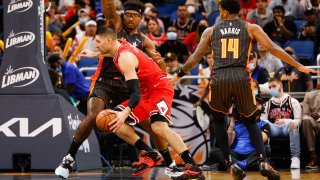 Bulls' Vucevic savors victory, family in return to Orlando originally appeared on NBC Sports Chicago
ORLANDO --- As he continued trying to find his rhythm in his second game back from a positive COVID-19 test and also had to manage his emotions on a night an Orlando Magic franchise honored him, Nikola Vucevic added another responsibility to his plate.
Worried Dad.
One of Vucevic's two young sons sat courtside Friday night with Vucevic's wife to watch dad-husband post 16 points, eight rebounds and three assists in the Chicago Bulls' blowout victory. All the better to soak up the experience of a special night, even if the younger son stayed home.
"We're really strict with his sleeping (schedule) so he hasn't been to many games yet. And he's so little," Vucevic said, laughing. "Tonight, we were just like, 'Yeah, let's let him go crazy a little bit and bring him to the game.' And I felt like it would be nice to have him sit courtside so he could have a great experience and see me up close.
"I was just worried he might run up on the court or something after the ball. But he actually did well. It was special for me. It's something he'll remember for awhile."
Especially because Vucevic held him in his arms as he conducted his postgame interview with NBC Sports Chicago's Adam Amin and Stacey King.
From the moment Vucevic entered Amway Center, he rarely had a free moment. Well-wishers young and old, past and present, kept stopping by for a hug or a handshake or a shared memory.
It's what happens when you spend 8 ½ seasons with one franchise, growing for a raw second-year player to a two-time All-Star. No wonder Vucevic drew partial standing ovations both during player introductions and during a video tribute after which he stood to acknowledge the fans.
"That was the toughest moment for me to manage my emotions," Vucevic said. "It was all these memories coming back in one moment."
As someone who rooted himself in community service, plenty of off-the-court highlights appeared on the video as well. The Magic sent a copy to Vucevic for posterity.
"It was definitely emotional just being back in this building and seeing all the people I've met throughout the years and friendships I've built," Vucevic said. "It was a lot to take in for sure. . . . It's a special place for me and it always will be special for me to come back."
As for the on-court comeback, Vucevic logged close to 29 minutes after playing 26 minutes on Wednesday in Houston. The first game back represented six more than he was scheduled to play.
"It's been a little better than I thought it would be, for sure. But I'm still not there 100 percent, which is expected," Vucevic said of his conditioning. "It's difficult because it's not like an injury where you can do the bike or lift. For 10 days, I was not allowed to do anything. As much as I enjoy laying on my couch, after 10 days it's not easy to come back. Just gotta work through it."
Coby White and Billy Donovan both noted how everybody in the Bulls' traveling party knew how special of a night this marked for Vucevic, who is a well-liked teammate. White joked how Vucevic is "pretty chill" and was trying to calm down the free-spirited White's attempts to further amplify the night.
And when it ended, Vucevic found Wendell Carter Jr., the player he was traded for who dropped 26 points, 10 rebounds and two blocks on his former team in an extremely athletic and energized performance.
"I just told him great game and he played really well. It's great that the 3-point shot is added to his game and he continued to work," Vucevic said. "He got it going early and hit some shots and also was on the glass and the drive. It's great to see a young guy continue to improve and play well.
"I always liked his game even before when he was with the Bulls. I think he has a special future. I think is a good place for him to continue. I just wanted to give him some words of encouragement."
That's the kind of person Vucevic is. That's the kind of emotional night it was.
Copyright RSN