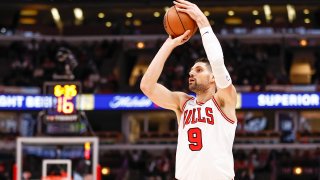 Vucevic continues inconsistent shooting season originally appeared on NBC Sports Chicago
As memorable as Nikola Vucevic's first return trip to Orlando in a Chicago Bulls uniform last November proved, Sunday night was as forgettable as yesterday's Wordle.
Vucevic shot 4-for-19. He committed five turnovers, including back-to-back offensive fouls. He banged his left knee on the court after tripping over Wendell Carter Jr. He fouled out.
"Whenever you have a bad game it frustrates you, especially when you lose," Vucevic said via Zoom from his former stomping grounds. "Obviously, I wanted to come here and play well and help the team win. I didn't do any of that."
Vucevic, who had 16 points, eight rebounds and three assists in a Bulls' blowout victory in the last trip to Orlando, is now shooting a career-low 43.1 percent. His 32.2 percentage from 3-point range represents his worst since 2017-18, back before he made his two All-Star appearances to represent the Magic.
And Sunday night, he not only got attacked in pick-and-roll situations but also in the paint by everyone from Moe Wagner to Carter Jr.
"The shooting is part of the game," Vucevic said. "I was more disappointed in my focus defensively."
Vucevic said some of the areas he feels he has displayed solid defensive principles in throughout this season---getting back, not biting on pump fakes, limiting penetration off pick-and-roll in the drop scheme---failed him.
"There are so many ways to impact the game. I didn't bring the energy and focus needed to help us win the game," he said. "I think that affected my shooting in a way."
To which, DeMar DeRozan said: Keep shooting.
"Confidence is there. Work too hard to stress on it. You can't play a perfect game every single night. We're riding with him---right, wrong or indifferent. Just keep telling him that," DeRozan said. "We win together. We lose together. That's my mentality."
DeRozan knows Vucevic as well as anyone. They played together in college at USC and openly talked about one day playing together in the NBA.
Now that that's a reality, DeRozan has been one of Vucevic's biggest backers throughout a trying season individually.
"He knows he has to be better in every type of way. Things like that don't need to be said to Vooch," DeRozan said. "He's been in the league for a long time. His talent speaks for itself. It's going to come around. I just tell him just keep being him."
The issue is: Too many of these games have occurred this season to not have some concern.
This marked Vucevic's sixth game in 38 appearances with three or more turnovers. And he now has 19 games in which the career 49.3 percent shooter has failed to crack 40 percent. That includes 10 games under 35 percent.
Coach Billy Donovan likes to point out Vucevic's impact beyond shooting and scoring. And he's right. Vucevic posted his 23rd double-double against the Magic, good for top-10 in the league. He's an elite rebounder and willing passer.
But especially with Zach LaVine out, the Bulls need more from Vucevic offensively. And as DeRozan noted, Vucevic knows it.
"You want to help your team," he said. "It's frustrating."
Copyright RSN