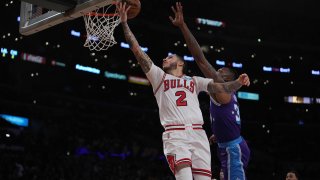 Ball weighing options to address meniscus injury originally appeared on NBC Sports Chicago
If the new treatment plan that Chicago Bulls coach Billy Donovan said Lonzo Ball will undertake to address his left knee injury doesn't work, the starting point guard may opt to undergo an arthroscopic surgery procedure, sources confirmed to NBC Sports Chicago.
Asked directly before Wednesday's victory over the Cleveland Cavaliers if surgery is on the table for Ball, Donovan said: "We haven't gotten to that point now."
But according to ESPN's Adrian Wojnarowski, Ball and the Bulls will decide on that option within the next 24-48 hours. The Athletic's Shams Charania reported that Ball has suffered a small meniscus tear in the knee. Donovan said on Wednesday that the Bulls planned a new targeted therapy approach after the initial one didn't address the issue for Ball, who will miss his fourth straight game on Friday in Milwaukee and isn't traveling on the Bulls' three-game trip.
Ball walked into the United Center without a limp on Wednesday.
Ball underwent an arthroscopic procedure to address a meniscus injury in the same knee in July 2018 and returned in time for the Los Angeles Lakers' opener. If Ball needs another procedure, his timeline to return would be contingent on whether the tear is repaired or removed. At minimum, Ball would likely miss four to six weeks.
Ball is averaging 13 points, 5.4 rebounds and 5.1 assists.
Click here to follow the Bulls Talk Podcast.
Copyright RSN