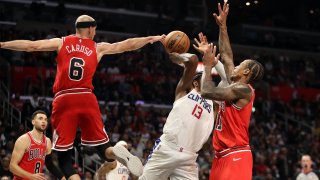 How the Bulls have avoided letdowns following losses originally appeared on NBC Sports Chicago
Billy Donovan knows flat nights happen in the NBA.
But the Chicago Bulls' coach didn't want to flush Monday's clunker of a loss to the Pacers. He wanted to file it.
"What we learn from this and how we respond to this is important," Donovan said. "I've never been a big believer in, 'Just flush the game. It didn't happen.' No, it did happen. And we've got to own it.
"There is a standard and expectation we expect to play to."
This is a pitch-perfect response. It's what serious-minded teams say and how they act. And it's a big reason why the Bulls are 4-1 following losses this season, with a chance to improve to 5-1 against the 1-16 Rockets on Wednesday. Houston has lost 15 straight games.
"Take it as a learning experience," LaVine said about the Pacers' loss. "Watch the film. We'll play them again. Get ready for Houston."
The Bulls have responded with impressive victories following previous losses. They have defeated the Jazz, Nets, Clippers and Nuggets. Only the Nets' victory followed a second consecutive loss, both of which were to the 76ers.
In those four games, DeMar DeRozan has averaged 30.3 points, LaVine has averaged 28.8 points and the Bulls have averaged scoring 21.5 points off turnovers. They also have held three of those opponents under 40 percent shooting.
This formula largely is how the Bulls have built their 12-6 record. Create defensive havoc, attack before defenses can get set whenever possible and ride the sublime scoring abilities of DeRozan and LaVine in the halfcourt when transition opportunities don't materialize.
The Bulls rank third in the NBA with 19.4 points off opponent turnovers. Alex Caruso is listed as questionable for Wednesday's game after missing Monday's loss with a left wrist contusion. His return will boost the Bulls' ability to pressure opponents.
Monday marked the first time LaVine and DeRozan both failed to reach 20 points in the same game. The Rockets actually own a middle-of-the-pack defense, ranking 18th in rating. But look for both players to attack.
In LaVine's two sub-20-point games this season, he has attempted just one free throw. DeRozan has attempted just two free throws in two of his four sub-20-point games.
After missing the last seven games due to a positive COVID-19 test, Nikola Vucevic is traveling on the two-game trip that continues Friday in Orlando. Donovan said Vucevic's return hinges on him passing cardiac screening and medical clearance. He's also listed as questionable, which is 50-50 in injury report parlance.
Whenever the All-Star center returns and he rounds into game shape, his shooting and passing ability will be welcomed.
"He's one of the main pieces of our team," LaVine said. "It'll be great to have some size back, get our All-Star big man back. He'll help everything out."
The Bulls have helped themselves following previous losses. Wednesday offers a get-right opportunity of the highest degree.
Copyright RSN