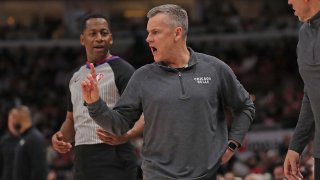 Donovan challenges players to learn art of competing originally appeared on NBC Sports Chicago
When Billy Donovan returned on Jan. 3 following a five-game absence in the league's health and safety protocols, he immediately pointed to the Bulls' defensive deficiencies he witnessed while watching from his house.
And then the Chicago Bulls won their eighth straight game in an eventual season-high, nine-game win streak.
When the Bulls exited the All-Star break with their sixth straight victory on Feb. 24 to move to a season-high 18 games over .500, Donovan warned about unsustainable shooting.
In some ways, that's Donovan being a coach, ever the realist or worrier depending on one's perspective. In others, perhaps Donovan saw this season's Bulls for what it is---a team with a core playing together for its first season and filled with other young role players who never have experienced playoff basketball.
That's coming, ready or not.
Following another dispiriting loss Wednesday night at the United Center, the Bulls certainly don't look ready. Their non-competitive showing in a 117-94 loss to the Celtics dropped them to 1-14 against the top-four teams in the Eastern Conference---one of which they're guaranteed to face in the first round when their seed is determined.
"We're not as bad as we've played. We're not. But you know what? We probably weren't as good when we went on a nine-game win streak, Donovan said. "Probably the truth is somewhere in the middle.
"There's a fight that you have to have this time of year. Because you're fighting for margins. When we have these huge losses, Milwaukee and Boston understand the margins. And they're fighting like crazy for them. And we've gotten dominated on the margins. That's why we've lost by 20."
The margins mean fighting over screens on every possession. They mean aggressively and correctly closing out on shooters. It's boxing out, diving on the floor for loose balls, cutting forcefully to collapse defense.
It's the little, gritty details that separate championship teams from pretenders.
"That's coming on every single possession. And I don't want to say it's eye opening. But it's a little bit like, 'Wow, I think I'm playing hard.' But it's not good enough," Donovan said. "These moments where you're playing against really good quality teams, you just get to a point where it's like, 'Enough.' What are you competing for?  You're competing for everything on every single possession. You're competing on the screen. You're competing to get out there and contest. You're competing on the glass.
"It can't be, 'Ah, I forget to get back in transition. I lost sight of my man. I forgot to block out. Oh, that was a silly foul. I left my feet.' Those things inevitably add up over a period of time. You can't get by on that. There has to be precision and concentration and this intense focus. We've gotta get that.  And I don't feel like we have that."
This was Donovan at his most passionate and direct.
Donovan and his staff have changed lineups, sometimes by necessity due to injury. They're currently trying new rotational looks, with Derrick Jones Jr. getting another look and, against the big and physical Celtics, another try at the Nikola Vucevic-Tristan Thompson pairing.
Like the Bulls lately, that hasn't looked good.
Donovan repeatedly has cited the Bulls having the hardest post-All-Star-break schedule as a benefit because it can spotlight the deficiencies and teach the level of focus and concentration needed to succeed in big games.
But with just two games remaining and the Bulls limping to the finish line with a 6-14 record over the previous 20 games, is there time to apply lessons learned to this season, this playoff run?
"Our starting point guard has never played an NBA season before. And he's done a lot of great things for us. But this is all new for him," Donovan said of rookie Ayo Dosunmu. "Patrick Williams has been out for five months. And I'm not saying (Wednesday) or (Tuesday) has anything to do with those two guys.
"What I am saying is there is a growth period that you have to become tougher, nastier. You just become hardened and understand what it's all about. There's this elite, laser focus of moment by moment, playing what is going on now. For some of our guys, this is like, 'Wow.' And we've got to put more into it.
"I've loved these guys. They've been great. And what they're going through is going to be very valuable in terms of helping them grow. But there's a lot that goes into this. And it can't be, 'Sorry, it's my fault.' Those things add up over a period of time."
The Bulls are running out of that to right this season.
Copyright RSN